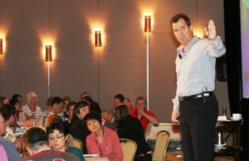 There are faster and more efficient ways to buy and sell properties than what Australians are currently doing
Sydney, Australia (PRWEB) November 27, 2012
Australians are increasingly turning to property investment as the strategy of choice for long-term wealth. But are the traditional methods of relying on banks for finance and negative gearing creating the investment property prosperity we dream of? In a recent podcast on the theme of 'Street-smart secrets to real estate wealth', property investment strategist, Rick Otton emphatically reveals that the answer is 'no'.
"If people want to get started in buying property, they need to question whether they really need bank loans or whether they want to pick up a property that someone else no longer wants," he said.
"There are faster and more efficient ways to buy and sell properties than what Australians are currently doing, and the quicker we get there, the quicker we'll get to the tipping point for permanent change."
Mr Otton – a businessman, author and mentor – is internationally known for his creative, out-of-the-box strategies to buy and sell properties. One of his key strategies to achieve property investment success is through the rent-to-own (or lease-to-own) option, which popular in the US.
An Alternative Paradigm
Under the rent-to-own process, both parties agree on the purchase price of the property, and the monthly payment amount, for a clearly defined period. If, at the end of that period, the renters are in a position to refinance and purchase the property at the agreed price, the payments they've made are counted as their equity in the property.
In many cases this equity is enough to form the deposit for a bank home loan.
Mr Otton regards this as a win-win scenario for both parties – renters eager to break into property ownership and sellers wanting to get the price they want for their homes in a challenging market.
In the podcast, one of his students, Shane Saunders, describes how he is employing Mr Otton's creative real estate strategies to achieve results he says are 'unbelievable', while helping others – and without spending a cent.
Mr Saunders' strategy was to act as the middle man in the rent-to-own process, sourcing, buying and then selling properties that were stagnating on the market.
"It wasn't until I met Rick that I really learned that you can have property, have the lifestyle you want and make money now, not in 10 years or 20 years. With the last few deals we've just done, we've put no money in and made profit," he said.
Mr Otton responded: "So you're making money out of nothing. You've got to love that scenario. It's not about how much you make, it's about a return on investment."
The free full podcast can be heard on iTunes at Creative Real Estate
About Rick Otton
Rick Otton has spent decades making money by snapping up inexpensive real estate and putting it to work building wealth. Now, he's teaching other Aussies how to do the same. He is the founder and CEO of We Buy Houses, which operates in the U.S., U.K., Australia and New Zealand putting his strategies to work every day.
Otton got his start in alternative real estate investment in 1991 and within a year acquired 76 properties. In years after, he made a fortune using his low-risk, high-reward strategies to inexpensively acquire real estate.
Now, Otton wants to share the wealth by sharing the wisdom, teaching us how to buy and sell real estate without cutting banks and other middlemen in on the deal.
Otton has been featured in a variety of television programs and magazines, including Today Tonight, A Current Affair, Australian Property Investor and more.
You can learn more about Otton and how to invest in residential real estate without using banks at CreativeRealEstate.com.au