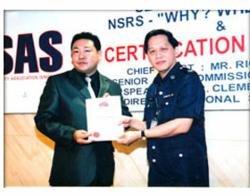 Singapore (PRWEB) November 21, 2012
Among hundreds of competing firms in South East Asia, one star of the private detective business is Lawrence Koh's SK Investigation Services.
In this digital era when subjects risk so much to carry on their illicit affairs, they have found ways to remain stealthier than their predecessors in the "cheating spouse game." Koh knows about the tactics men and women are using to shake their spouses off their trails, like shunning classic love motels for more removed, private chalets. His highly trained investigators benefit from his experience in the field maintaining his own low profile while observing subjects, assuring both theirs and their clients' secrecy. With 95% of marital cases taken by the firm proving clients' suspicions correct, and a 98% overall client satisfaction rating, Koh has proven his ability to adapt to any situation to get results.
Far from being prowlers themselves, KS Investigations upholds the spirit and letter of the law. From their website at http://www.sk.com.sg/ , prospective clients can find the firm's Professional Code of Ethics and Conduct. Their protocol demands the utmost integrity, honesty, and legality in all these private investigators do.
However, a business cannot run on good intentions alone. For 23 years, Lawrence Koh has built his organization up to be the preeminent private investigation firm in Singapore. In 2003, Koh became a member of the World Association of Detectives Inc. That same year, the Council of International Investigators granted him the title of Associated International Investigator. The firm's inclusion in the 2010 Successful Entrepreneur Top 100 Platinum Category boosted their profile as an international force. As the American Biographical Institute's 2011 Man of the Year, Koh demonstrated his overwhelming achievements as the director of SK Investigations and became a Fellow with ABI. Most recently, the 2012 Top 100 Singapore Excellent Award now adorns the company's reputation. The list goes on.
It can be tough to find an affordable alternative to big firms when considering private investigator costs. SK Investigation Services is committed to catch cheating spouses while making sure clients get the best deal. Their website http://www.sk.com.sg/ offers tips on getting the best deals with PI firms. With that kind of commitment to their clients, Lawrence Koh and SK Investigation Services aim to impress South East Asia in new and even bigger ways in 2013.
About SK Investigation Services
Since 1988, Koh has led the private investigation industry, taking on myriad challenges such as adapting to changing subject patterns, rapid technological advancement, upholding high standards of ethics, and maintaining outstanding achievement in his field, all at a rate far more affordable than big international firms, thus earning numerous awards for his extensive experience and work ethics.