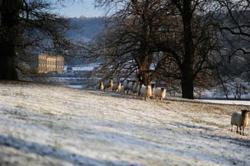 Kestrels are such majestic creatures and it's quite easy to overlook them
Peak District, UK (PRWEB UK) 19 November 2012
Clearly very passionate about the Peak District, a director of the once small family run business, which has grown into a monster website, listing the largest holiday accommodation directory for the area, James Dobson is also passionate about the wildlife of the area.
Responsible for taking the stunning photographs of Peak District Online's newest page added to their website this morning, the kestrel, he felt it was time to welcome this pretty but formidable hunter to their website.
'Kestrels are such majestic creatures and it's quite easy to overlook them, being a common sight fluttering high above the grass verges of the motorway, but if you're very lucky like me, and can get close up a personal with them, they are absolutely stunning birds,' and users James. 'We are so lucky to be able to see these gorgeous birds circling above our heads as we drive out about in the Peak District, but never under estimate how lethal and spectacular they are at hunting their prey.'
With growing numbers of kestrels flying about the Peak District, the team at Peak District Online felt it was only fitting to add their peachy plumage to an autumn coloured part of the country. Blending in so perfectly to their surroundings makes the kestrel extremely good at catching its dinner, but capturing it on camera is a privilege and pleasure according to the director of the company.
'It's so wonderful to be able to indulge in my hobby, taking wildlife and landscape photographers alongside my business partner and fellow director, Steve Wake. There is an abundance of wildlife around my home up here in the gorgeous White Peak, but I adore being able to share my photographs and experiences with readers of the website I hold very dear to my heart, http://www.peakdistrictonline.co.uk. '
With lots of interesting facts and information bursting at the seams about places to go, people to see and hosting a wealth of knowledge, news and history about the Peak District, the team at PDO are clearly clever what they do. Attracting more visitors than ever before to their online service, they welcomed over 200,000 unique visitors last month and the numbers are growing steadily.
'It's thanks to pages like the kestrel, which has not only natural history, but excitement and enjoyment for our readers,' explained Steve Wake, director and landscape photographer for Peak District Online.' Every time we launch a page of the new Peak District wildlife section, we are very proud of the compliments we receive. They are becoming one of the most popular sections, particularly at around 11 o'clock in the morning when we are convinced workers stuck in their offices, fancy being transported into the Peak District with their cup of tea for a little while. I think this latest page about the kestrel is probably my favourite, mainly because of the writing and the photographs and I actually learned something I didn't know before, which is always a good thing to keep the grey matter churning!'
See the new pages as they are added to the ever popular website listing the largest holiday accommodation directory in the UK for the Peak District as they are added on a daily basis.