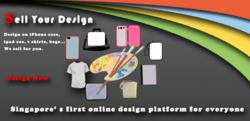 Singapore (PRWEB) November 21, 2012
theXstyle.com is releasing a new feature, which allows website users to create their own shops and to develop new business opportunities. The shop creation and product design process web applications are easy to use, even for less technical users. The web shop owner can create designs for a selection of popular products, such as T-shirts for men, women and children, as well as shoulder and camera bags. The iPhone case and iPad case options are also available for shop owners to offer to their customers.
Once the designs and products are in place, the owner can promote the items through various channels, such as social media, websites, blogs and print. The web shop owner will earn commissions on the products sold through http://www.theXstyle.com, which completes the necessary order fulfillment tasks.
With the holiday gift-giving season fast approaching, individuals with entrepreneurial spirits can develop businesses that supply corporate gifts to other organizations. These organizations may include businesses, charitable non-profits, community groups, or sports-related clubs. Examples of these types of gifts are client appreciation and employee recognition items. In addition to offering corporate incentive products, individual shop owners can promote and sell their products to directly to end consumers.
Shop ownership is not limited to individuals. Existing businesses may also choose to set up shops to create and supply gifts directly to their own customers and employees. They may also choose to set up shops as an addition to the line of business they already have in place.
Because individuals and businesses can upload their own unique designs, the opportunity for promoting and distributing appealing gift ideas is virtually limitless. Entrepreneurs have the opportunity to create designs that attract a large number of buyers, who can easily purchase the items any time of the night or day, and any day of the week.
Customers can choose to pay for their products using one of several well-known payment options. TheXstyle.com produces the ordered items, bills the customer and ships the product, allowing the entrepreneur to establish a business that requires little effort to maintain. The company offers fast turnaround on the items ordered through its website, leading to customer satisfaction.
About theXstyle.com
theXstyle.com is a company based in Singapore which offers online design and printing services that can be used by either individuals or businesses. The Singapore-based company specializes in producing a variety of gift items, including corporate gifts, such as the extremely popular iPad case or iPhone case.