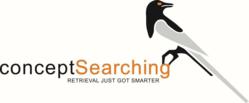 Concept Searching's conceptClassifier for SharePoint is the only single code base solution for SharePoint 2007, SharePoint 2010, SharePoint 2013 and Office 365.
McLean, VA, US and Stevenage, UK (PRWEB) November 19, 2012
Concept Searching, a global leader in semantic metadata generation, auto-classification, and taxonomy management software, and developer of the Smart Content Framework™, is pleased to announce that David Wu, Vice President of Canada for Concept Searching, will be a speaker at SharePoint Saturday Ottawa, on December 1st 2012.
SharePoint Saturday Ottawa will be an educational, informative, and interactive day filled with sessions from respected SharePoint professionals and MVPs, covering a wide variety of SharePoint-orientated topics.
David Wu, Vice President of Canada at Concept Searching will be sharing his expertise on how to 'Leverage Metadata and the Term Store to Drive Search, Governance and Compliance in SharePoint On-premise and in the Cloud'.
Concept Searching's conceptClassifier for SharePoint is the only single code base solution for SharePoint 2007, SharePoint 2010, SharePoint 2013 and Office 365 delivering metadata generation, auto-classification and taxonomy and term store management solutions, widely used in both government and commercial enterprises. David Wu's session will demonstrate the platform live and how it can be used to deliver the following:

Improve search transparency
Perform intelligent content migration
Records identification
Identify and act on sensitive information
Classify organize and migrate file shares
David Wu has over 15 years of experience in the Information Technology industry, with a skill set in both technology and business, which enables him to effectively communicate to a wide audience at a technical and non-technical level. In his senior executive position at Concept Searching, Wu is responsible for software sales, partnerships, and implementations for Concept Searching's award winning flagship product conceptClassifier for SharePoint.
A Microsoft Certified technologist in .NET technology and SharePoint 2010, Wu is also active within the AIIM organization and holds SharePoint Practitioner, SharePoint Specialist and Taxonomy and Metadata designations. On a part-time basis he is the Senior Global SharePoint Enterprise Content Management (ECM) Class trainer for AIIM and has taught many courses throughout North America and Europe.
SharePoint Saturday is free of charge, and will be held at Algonquin College, Building T, First Floor, 1385 Woodroffe Avenue, Ottawa, Ontario K2G 1V8. Seating is limited so register now.
Follow Concept Searching: http://www.twitter.com/conceptsearch
About Concept Searching
Founded in 2002, Concept Searching provides software products that deliver conceptual metadata generation, auto-classification, and powerful taxonomy management from the desktop to the enterprise. Concept Searching, developer of the Smart Content Framework™, provides organizations with a method to mitigate risk, automate processes, manage information, protect privacy, and address compliance issues. This infrastructure framework utilizes a set of technologies that encompasses the entire portfolio of unstructured information assets, resulting in increased organizational performance and agility.
Concept Searching is the only platform independent statistical metadata generation and classification software company in the world that uses concept extraction and compound term processing to significantly improve access to unstructured information. The Concept Searching Microsoft suite of technologies runs natively in SharePoint 2007, SharePoint 2010, SharePoint 2013, FAST, Windows Server 2008 R2 FCI, Office 365, and in Microsoft Office applications.
The building blocks of Concept Searching's Smart Content Framework™ are being used by organizations from a diverse number of industries including the US Army, the US Air Force, the UK MOD, Baker Hughes, DAI, Deloitte, Logica, NASA Safety Center, OppenheimerFunds, Point B, Perkins+Will, Parsons Brinckerhoff, Burns & McDonnell, MarketResearch.com, the US Department of Health & Human Services, Transport for London, the London Fire Brigade, the National Transportation Safety Board, and Xerox.
Headquartered in the US with offices in the UK, South Africa and Canada, Concept Searching solves the problem of finding, organizing, and managing information capital far beyond search and retrieval. The technologies are being used to improve search outcomes, enable effective records management, identify and secure sensitive information, improve governance and compliance, add structure to Enterprise 2.0, facilitate eDiscovery, and drive intelligent migration. For more information about Concept Searching's solutions and technologies please visit http://www.conceptsearching.com.
All product and company names herein may be trademarks of their respective owners.