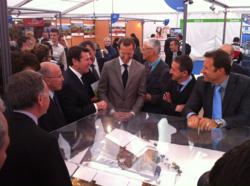 Even in uncertain economic times, people still enjoy skiing and take their recreational time seriously.
Nice, France (PRWEB UK) 21 November 2012
As the winter ski season in France nears, Nice Properties Real Estate Group, one of the leading real estate companies on the French Riviera, reports an increase in new build condominium projects in the Auron Ski Resort located in the Alpes-Maritimes of southern France.
Apart from the gloomy economic backdrop from the Eurozone crisis, some investors have chosen to capitalize on the niche recreational property market for new residential condominium projects. Three of the 4 new projects in Auron, located 1hr15 from Nice, have been or are in the process of being built with the last project currently starting construction. One of the them, the 4* Las Donnas 2474 Tourism Residence that began selling its 73 units last winter season completely sold out and are now selling their second phase of 24 units.
Nicolas Viale, New Build Real Estate Broker for Nice Properties Real Estate Group explains, "We have definitely observed a two-fold interest in the ski resorts by both investors and infrastructure investment by the local government as a response to a higher demand by both local and foregin clientele."
In the last few years an original investment of 120 miillion euros was slotted to the ski stations for the installation of the latest generation ski-lifts, snow machines as well as hands free ski-lift pass system. That budget will now see an additional investment of 25 million euros to continue the modernization of the ski resort with the latest equipment and technology.
Viale further explains the renewed dynamic, "Even in uncertain economic times, people still enjoy skiing and take their recreational time seriously. Auron is only 1hr15min driving from NIce and has a small mountain village charm with 135km of great sunny skiiing which is very attractive and convenient for people living on the French Riviera."
About Nice Properties Real Estate Group
Nice Properties is the French Riviera's leading real estate group specializing in the sale of luxury villas, vacation homes, apartments, commercial real estate and new build programs, and has the most effective professional multilingual network of real estate professionals with 5 offices along the Cote d'Azur from Cannes to Beaulieau, providing an efficient and seamless platform for the best real estate opportunities and investments on the French Riviera.
Please visit the Nice Properties special dedicated website Investimmoneuf for New Build Programs and find out more information regarding the newest real estate developments on the French Riviera and its surrounding areas.