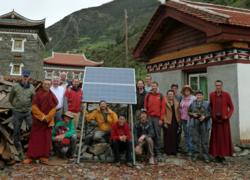 The Buddhist culture and spirit is so strong. It permeates every aspect of life.
Boulder, CO (PRWEB) November 21, 2012
As reported in the Daily Times, Conscious Journeys alumni will present their experiences installing a photovoltaic (PV) system in a Tibetan medical clinic. Presentations are scheduled in Farmington, New Mexico and Durango, Colorado. The "Solar Mission to Tibet" which took place June 4-18, was organized by Conscious Journeys, Tibetan Village Project (TVP), and San Juan College (New Mexico).
This summer a team of 10 students was led by Chris Strouthopoulos, assistant professor of English, outdoor leadership and coordinator of international programs at San Juan College, and Mike Sullivan, an adjunct engineering instructor.
The PV system was installed at a medical clinic in the town of Sihurong, located on the eastern edge of the Tibetan Plateau. It will supply electricity for lights and necessary equipment in the clinic. The clinic provides villagers in the area access to western and traditional medicine. It was built in 2009 by TVP, a small-scale development NGO that partners with Conscious Journeys to raise money and volunteers for projects designed to improve the quality of life in rural Tibetan areas, preserve Tibetan culture, and promote sustainability.
The students received credit according to their interests; some focused on PV engineering and installation, and others focused on cultural and religious studies. In addition to the solar installation, the students had local homestays, visited monasteries, and had the option of mountain trekking.
The participants gained firsthand knowledge of Tibetan daily life and culture, and learned about the ongoing challenges for rural Tibetans who have limited access to healthcare, education, and economic opportunities. The group traveled with Conscious Journeys, a "volun-tourism" organization that recruits groups to do service project in rural Tibetan villages.
Kandy LeMoine, one of the project participants, will talk about her experiences on the solar mission. "I have always wanted to meet the people of Tibet," she said. "I've had an interest in the Tibetan Buddhist faith. The people were very cheerful, friendly and curious. We had translators, but I don't think communication was an issue. It was so easy to communicate through smiles and gestures."
Strouthopoulos will also give a presentation this month. "It was magical," he said. "The Buddhist culture and spirit is so strong. It permeates every aspect of life. They are the warmest, kindest-hearted people. I just keep getting drawn back there."
LeMoine's presentation will be held on Nov. 30 at Farmington's Sycamore Park Community Center, from 5:30 to 6:30 pm. Strouthopoulos's presentation will be held on Nov. 28 at San Juan College's Center for Teaching Excellence at 2:30 pm.
The purpose of the presentations is to raise awareness for the work of Tibetan Village Project and to encourage others to get involved in TVP's projects.
For more information about the Farmington presentations, email Kandy LeMoine at klemoine(at)fmtn(dot)org, or Chris Strouthopoulos at strouthc(at)sanjuancollege(dot)edu. For information about the Durango presentations, email Ron Fogelman at Rfbuzzard1(at)aol(dot)com.
Conscious Journeys is the volun-tourism program of the NGO Tibetan Village Project. Tours focus on providing services to local communities, practicing sustainable travel, supporting local businesses and connecting in a positive and meaningful way with Tibetan communities across the plateau.