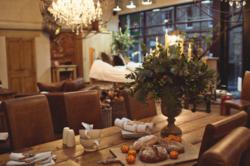 We love to pamper our customers, particularly at Christmas! - Susanna Ash, Bow Boutique
De (PRWEB) November 20, 2012
Derbyshire residents were recently invited to an exclusive evening shopping event hosted by Matlock retailers, Bow Boutique, Robert Young, Indigo Furniture and The Vintage Rooms in the lead up to the Christmas shopping season.
Doors opened at 4pm on Friday 02 November 2012 for shoppers to indulge in offerings from some of the best local retailers in Derbyshire. Attendees were able to take a leisurely stroll between each shop and were treated to exclusive discounts on the night, plus music and refreshments.
The French Wine People hosted an in-store wine tasting at Indigo Furniture's newly refurbished showroom – along with Fresh Basil delicatessen who supplied cheese from Franjoy Dairy, in Hazelwood, made with local milk from dairies in Duffield and Tissington.
Promotional flyers were distributed by participating stores in the lead up to the event, which served as entry into a prize draw to win one of four prizes worth £100 each. Entrants filled out their details on the flyers and popped them into an iconic British red letterbox, part of the authentic decor at Indigo Furniture's showroom.
Susanna Ash of Bow Boutique said "We love to pamper our customers, particularly at Christmas! The evening event will be a relaxed affair with each retailer offering a warm welcome and a little glass of cheer. We'd like to take this opportunity to welcome the Vintage Rooms to Matlock and good luck to all who enter the competition on the night."
For more information on the event call 01629581800.