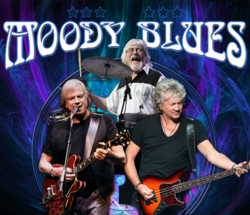 This will be a cruise to remember, sailing with The Moody Blues and some of the bands that defined the greatest era of rock music.
Fort Lauderdale, FL (PRWEB) November 20, 2012
The Moody Blues have announced "The Voyage", a fan vacation and musical celebration hosted by of one of the world's most iconic rock bands. Joining Justin, John & Graeme and the rest of the band, fans will enjoy this once-in-a-lifetime Caribbean getaway, visiting Ocho Rios, Jamaica and Georgetown, Grand Cayman on an unprecedented 5-night cruise journey.
Enjoy private concerts, Q & A, special events & activities plus special musical guests that influenced the music of the 70s and beyond. This is not just a "concert cruise"…. It is a fan experience celebrating the 45 years of the band since Days of Future Passed. For fans of The Moody Blues, this is a rare opportunity to vacation while interacting with the bands from the greatest generation of rock.
Special musical guests include the "voice" of Emerson, Lake and Palmer, Greg Lake; internationally acclaimed, Little River Band, with over 30 million album sales; legendary British band, The Zombies; Grammy nominated 1970's band, Ambrosia; Asia featuring John Payne; The Prog Collective featuring Billy Sherwood; British progressive rock pioneers, The Strawbs; TOTO lead singer Joe Williams, Heavy Mellow, featuring Moodies music and more with Flamenco flare plus a psychedelic tribute to the 60's and 70's with Mellow Yellow.
In addition to two special concerts by The Moody Blues, including an intimate Storyteller's performance, fans will be able to enjoy the many artists and bands on multiple stages aboard the luxurious MSC Poesia. Other events include a Q & A with Justin, John & Graeme, "Behind the Moodies" featuring stories and history of the band, additional Moodies expert panels highlighting the "back-stories" of the band that has captured the hearts of generations of fans plus an opportunity for fans to share their favorite Moodies moment with "Dear Diary". On a lighter side, passengers will enjoy other special events including the Moodies "Blue Out" Sail Away, Moodies Karaoke, Moodies Trivia, Moodies Movies Under The Stars….even an invigorating Dawn Is a Feeling Yoga to start each day with a spiritual, mind & body experience.
In one memorable evening event of music, dance and fun, passengers will be transported back to the 70's for the Summer of Love Prom where groovy threads, peace and love create a night to remember. Finally, an elegant Blue World Formal provides a night of fine dining and more as fans are encouraged to express themselves with attire in their favorite hues of blue. More surprise events will be announced over the months to come so fans are encouraged to visit http://www.MoodiesCruise.com for updates.
Tickets for the Moody Blues Cruise will be sold on a first-come, first-served basis and are available now at http://www.MoodiesCruise.com. Due to unprecedented demand, early booking is encouraged as a sellout of the entire ship is expected in the weeks to come. The Moody Blues Cruise is a playground for the serious fan where music and a luxury cruise hook up for the vacation of a lifetime.