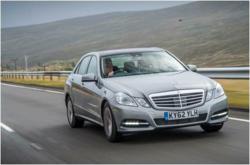 (PRWEB UK) 19 November 2012
Mercedes-Benz E 300 BlueTEC Hybrid
THE E 300 BlueTEC Hybrid is the latest addition to Mercedes E-Class range. Under the bonnet, in place of the big six-cylinder engine the "300" badge might suggest, it gets the 2.15-litre four-cylinder diesel already seen in the E 220 and E 250 CDI models.
The diesel engine is combined with an electric motor incorporated into the seven-speed automatic gearbox. That produces a hybrid drivetrain that turns out a maximum of 590 Nm of torque, which means the E 300 BlueTEC is not just an economy special – it's a bit of a performance car as well, including company car tax, where it weighs in with a lowly 12% tax banding.
For the rest, the Mercedes E 300 BlueTEC Hybrid is pretty much the same E-Class recipe as before, with all the pros and cons – mainly pros – that make the E-Class such a successful business car.
What's hot?

The Mercedes E 300 BlueTEC Hybrid offers an extremely favourable performance/economy trade-off
The extra power provided by the electric motor adds to the amazing shove-down-the-road of the already very torquey diesel engine to produce a 0-62 mph acceleration time of just 7.5 seconds.
At the same time, the E 300 BlueTEC Hybrid achieves 65.7 mpg and 109 g/km – although some company car drivers may balk at the idea of opting for the unfashionably small 16-inch wheel option required to get below 110 g/km.
Still, the company car tax banding on the Mercedes E 300 BlueTEC Hybrid is unbelievably low: 12% in 2012/13; 13% the following tax year
And if ones small business buys its cars, then they can think of the accelerated cash flow they'd get if they bought the Mercedes E 300 BlueTEC Hybrid with its 100% first year capital allowance
Mercedes has managed to squeeze the entire hybrid system of the E 300 BlueTEC HYBRID – with its additional weight penalty of 60 kg - under the bonnet, so the traditionally generous luggage and passenger space of the E-Class is unaffected.
Unlike, say, the Toyota Prius, the E 300 BlueTEC Hybrid doesn't feel very "hybridy" to drive. Apart from the extra performance, it feels almost exactly the same to drive as any other four-cylinder diesel Merc.
What's not?
The flip-side of the E 300 BlueTEC Hybrid's "normal" character is that it doesn't feel or sound particularly exciting for a car with such strong performance.
Although the E 300 BlueTEC Hybrid is generally comfortable, our test car suffered a slightly crashy ride over speed bumps and similar obstacles.
While the E-Class' cabin is roomy and comfortable, Mercedes' premium rivals probably do a slightly better job of making their occupants feel special. There's a slight tiredness to this Merc's cabin that will need to be addressed in the inevitable mid-life update.
Standard equipment levels are very high where safety features are concerned, but there are some surprising omissions when it comes to creature comforts – a digital DAB radio, for example, costs an extra £335.
The 100% first year writing down allowances are only available until the end of the 2012/13 tax year. From 2013 the tax break changes and the Mercedes E 300 BlueTEC Hybrid no longer qualifies.
Business Car Manager road test verdict
The Mercedes E 300 BlueTEC Hybrid will be an interesting choice for small business owners and SME directors looking for a new company car choice.
Unavoidably, the E 300 BlueTEC Hybrid has a relatively high P11D value – this is a fast, expensive car, after all – but running costs and taxes should be low when set against the performance on offer.
Business motorists who are 40 per cent taxpayers can expect to pay £158.33 in company car tax each month in 2012/13, and, with a combined cycle fuel consumption of 65.7 mpg, the E 300 BlueTEC Hybrid should be able to go for a long time between fill-ups – especially if the optional 80-litre fuel tank, which costs £100, is fitted.
The Mercedes badge, too, still counts for much in the company car park, but businesses might not wish to pay the extra business car finance cost of the Hybrid model over an E 220 or E 250 CDI where a monthly lease is some £70 a month less, despite the huge company car tax benefits to the driver.
Mercedes-Benz E 300 BlueTEC Hybrid – the low down
P11D Value £ 39,590
Monthly business rental (ex VAT) From £468 a month (3yrs/30,000 miles)
Company car tax bands 2012/13 to 2014/15 12%, 13%, 14%
BIK tax £4,751, £5,147, £5,543
Engine 2.15-litre four-cylinder turbo diesel-electric hybrid
CO2 109 g/km
Power/torque 204 PS/250 Nm (diesel engine), 27 PS/500 Nm (electric motor)
0-62mph 7.5 seconds/150mph
Economy 65.7mpg
Business Car Manager provides a range useful advice including guides on business car insurance and other Mercedes reviews plus more.
For more information, visit Business Car Manager at http://www.businesscarmanager.co.uk/