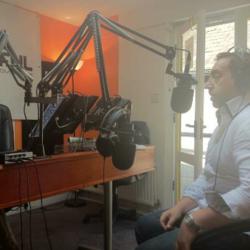 Don't merge into the social media background
London, UK (PRWEB UK) 20 November 2012
Superstars founder Steve Hutson continues his regular appearances on Colourful Radio's Life With Juicy Jaxx with two more shows, focusing first on the rights of temporary workers and then on how to use social media to improve the chances of finding a job.
For show 7 in this second season of Colourful Radio appearances, presenter Jaxx wanted to find out more about the Agency Workers Regulations (AWR) that were brought in a year ago and what kind of effect they have had on temps and agencies alike. Steve explained the basics of the AWRs - essentially, an EU directive intended to give temporary workers on agency contracts the same rights as permanent staff after 12 weeks - and how their introduction hasn't resulted in quite the doom and gloom many in the staffing industry feared.
The regulations have caused some confusion, largely from the fear factor among recruiters, but the effects for lower paid workers have been positive in the main.
Show 8 was dedicated to social media. Paper CVs are becoming a thing of the past, explained Steve and more and more employers are looking to people's social media profiles to find out more about them. Jaxx asked for some advice on how to improve digital profiles.
The key, said Steve, is not to try and hide who you are. ""When you are writing about yourself, be yourself," he told Jaxx. "You should show your personality and speak with confidence about something you are passionate about.
"Don't go in and say 'I'm a digital designer and I am good at it and do Photoshop' you want to talk about 'Did you see what Conran was doing with his latest work?'. Don't merge into the social media background."
Steve went on to discuss the many tools that are available to help get the most from social media and how to build momentum by getting an online profile seen in the right places. Making it easy for people to find you online is vital and Steve had some great tips on how to get involved in online communities and build up a reputation as an expert in a particular field.
Steve Hutson will be back on Life with Juicy Jaxx on 27 November to talk more about the world of employment and to launch the new iStar app from Superstars. Listen live via the Colourful website [http://www.colourfulradio.com/presenter/juicyjaxx/ or catch up with Steve's previous appearances on the Superstars You-Tube channel [http://www.youtube.com/user/homeofsuperstar .
Superstars is based on a unique new staffing model that eliminates fees and margins forever. Clients work with Talent Managers to get the best staff for their needs and the Talent get amazing opportunities and the best support and mentoring in the industry. Superstars' clients include BSkyB, Orange, Infosys and Radical Company with more being added all the time.
To find out more about Superstars' unique staffing model and how it can transform the way you hire staff, contact Steve Hutson - steve(at)homeofsuperstars(dot)com or visit http://www.homeofsuperstars.com