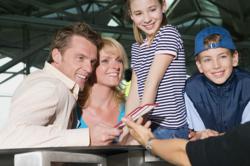 London, UK (PRWEB UK) 21 November 2012
Merac is now able to fast track the deployment of fully integrated Chip and PIN payments with their EPOS system without having to perform any bank accreditation and benefit from YESpay's PCI DSS Level 1 certification. With YESpay's EasyV-Retail linked to its EMBOSS payment gateway offering features like scalability, 'server and network down' resilience and rapid recovery routines for POS in the event of hardware failure, it became the perfect choice for Merac.
EasyV-Retail - A blockbuster from YESpay
Through Merac, YESpay's EasyV-Retail now caters to various popular visitor attractions like Longleat Enterprises, North Humberland Estates, Bristol Zoo Gardens, Wookey Hole, Kelmscott Manor and Royal Horticulture Society.
This integrated EPOS solution allows these attractions to offer a fast and faultless service to their customers, while effectively serving more customers in less time. Debit or credit card payment checkout is no longer an issue as YESpay's payment service fulfills end-to-end authorisation requests in less than 3-5 seconds. Real time reporting is also available online so that the attractions can keep track of daily payments and reconcile with its EPOS system. Last but not least, YESpay's EasyV-retail is offered with no infrastructure costs and priced at a low monthly fee per EPOS system. "Our multi channel offering has been key to supporting Merac customers in taking payment via different verticals. This combined with our authorisation speeds has been key to reducing queues at the attractions", quotes Richard Renwick-Forster, National Sales Manager, YESpay UK. EasyV-Retail is a pre-accredited card payment solution that enables merchants to process EMV Chip & PIN and magnetic credit and debit card payments within seconds via their EPOS systems. It goes beyond simply payments at the POS, enabling unique tokenisation, supporting Dynamic Currency Conversion and Tax-Free Shopping transactions, Gift Cards and Contactless Payments. All in a fully integrated PCI-DSS compliant environment.
About YESpay International Limited
YESpay International Ltd., a global card payments service company, provides highly secure Internet, EMV Chip & PIN, contactless and gift card payment processing services to independent and multi-chain merchants. Through EMBOSS, the YESpay Managed Payment Service, merchants can quickly accept integrated card payments within EPOS, kiosks, hospitality and e-commerce systems with minimal capital investment and low on-going services costs. EMBOSS is an on-line IP-based payment processing service that has been generically pre-accredited by major Card Acquirers in Europe and North America (including First Data Merchant Service (FDMS), Chase Paymentech, Barclaycard Business, HSBC, HBOS, Lloyds Cardnet, Streamline, Ulster Bank, Elavon, PBS, Amex and Diners). In addition, the YESpay EMBOSS service is fully end-to-end certified to Payment Card Industry Data Security Standards (PCI DSS) Level 1 as mandated by Visa and MasterCard. The YESpay EasyV-Suite of card payment products is innovative and cost-effective for EPOS, Kiosk, Hospitality, Mobile and Internet environments. With the YESpay EMBOSS card payment service, merchants can perform card payments in both card-present and card-not-present environments.
About Merac
Merac provide a fully intregrated EP0S and Back Office system designed to provide a complete I.T. Package for leisure and tourism attractions of all kinds. Merac's systems can be used in small family owned to large national attraction sites, they cover all your needs in the areas of Ticketing, Hospitality and Retail, membership management and much more.
Contact details:
UK Headquarters: YESpay International Ltd, Checknet House, 153 East Barnet Road, Barnet, EN4 8QZ, UK
Tel: +44 (0)203 006 3790
Canada Office: YESpay International Ltd, 116 Spadina Avenue, Suite 201, Toronto, Ontario, M5V 2K6, Canada
Tel: +1 855-YES-PAY- 1
PR Contact: Nitasha Jain, Marketing Manager, ext. 402, nitasha.jain@yes-pay.com, marketing@yes-pay.com