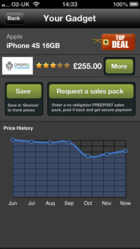 CompareMyMobile.com commissioned an independent study into what prices are being offered to consumers on the high street.
(PRWEB UK) 20 November 2012
CompareMyMobile.com's independent researchers visited all mobile phone retailers and networks in local town to see what pricing is being offered for iPhone 4S 16GB.

Carphone Warehouse and Phones4U offering only 80% of the possible online value of device.
Mobile Networks offering competitive pricing to attract new customers.
Downloading the CompareMyMobile App to your smart phone before recycling provides instant access to latest prices from over 40 different recycling stores.
The UK Mobile Recycling industry is growing and with an anticipated billion pound turnover in 2012 we have seen all but one of the UK's leading mobile networks * and retailers enter this market. CompareMyMobile.com commissioned an independent study into what prices are being offered to consumers on the high street.
CompareMyMobile.com selected the iPhone 4S 16GB as it is one of the most popular devices being recycled at the moment and asked each store what the trade in price would be when taking upgrading to the new iPhone 5.
The lowest price offered was £180 by Carphone Warehouse, that a massive £66 less than the top price being advertised on CompareMyMobile.com. Phones4U didn't offer much more and was less than 80% of the price that could be achieved by customers.
Andrew Beckett, Co-founder and Commercial Director of CompareMyMobile.com says: "I think the price being offered by CPW is very poor and clearly they do not uphold their Price Promise ** when it comes to recycling prices"
"We can understand that CPW's price should be a little less than online specific recycling companies but offering over 25% less for devices is misleading their customers and consumers need to be made aware that they could be missing out of extra cash at this time of year. However, on a positive note I think that the prices being offered by the mobile networks were good with O2 and EE being very competitive."
CompareMyMobile.com has recently launched it's new App, to enable consumers to instantly value their devices and process their trade through the unique in app transaction design. The App will recognise your device when you first start it up and you can then add more devices to build up your complete gadget portfolio. This will help the costumer understand the true value of their handset through market comparison, enabling them to upgrade with confidence knowing the handset valuation they are offered is fair, both in store and online.
Andrew add "CompareMyMobile.com is pleased to be pushing consumer awareness and confidence through innovation. We've been processing trades directly through the website for many months now and getting consumers to transact through their mobile devices is the next natural progression. We see huge benefit for consumers to find out how much their gadgets are worth in an instant and stop large retailers offering low prices to their customers"
CompareMyMobile.com is an independent price comparison site that provides free information on the value of a used mobile phones and gadgets from more than 40 recycling companies. All recycling partners are comprehensively checked for reliability, ensuring that the customer gets the best possible price and customer experience for their old handset and gadgets.
CompareMyMobile.com works with leading brands like Mazuma and Envirofone and independent user ratings mean if a company does not deliver, CompareMyMobile.com ceases its association.
About CompareMyMobile
Founded in 2009, CompareMyMobile.com is the UK's #1 source for independent mobile phone, tablet, sat nav, laptop, iPad, iPod and games console recycling price comparison. It delivers customers confidence in making the difficult decision of where to recycle their old phone safely and for the most money. CompareMyMobile.com is 100% impartial, comparing prices from more than 40 recycling stores.
The independent researchers visited Tesco, O2, Vodafone , Carphone Warehouse, EE, Phones4U and Three as part of this investigation on the 15th November 2012.
- Three does not currently have a retail or online recycling / trade in facility.
- carphonewarehouse price promise