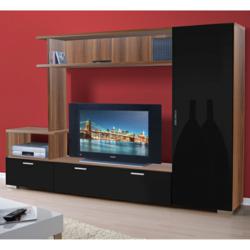 FurnitureInFashion added Focus High Gloss Black and Walnut Large TV stand in its TV stands range
(PRWEB UK) 21 November 2012
Largest supplier of furniture in the UK with an extensive collection of Tv stands, FurnitureInFashion now offers its exquisite, luxurious and multifunctional Focus high gloss black and walnut large TV unit for contemporary and modern homes. The company already maintains an extensive range of quality TV stands and offers excellent service to its customers. FurnitureInFashion is also known for supplying all home solutions at the cheapest possible prices.
Focus high gloss black and walnut TV unit is a large TV stand with ample space which makes it a perfect addition for a living room furniture, theater room or even a larger bedroom. "Focus high gloss black and walnut TV unit is unique in a sense that it not only is a stand for displaying TV but it is a complete storage unit which can keep the room clutter free and organized with style and personality," says CEO and Managing Director Asad Shamim of FurnitureInFashion.
"FurnitureInFashion believes in practicality and functionality of every home product. Focus TV unit is a perfect TV stand for a larger bedroom and living room where you can store all other accessories and items at one spot. The shelving arrangement along with drawers can save a lot of space as homeowners would not have to place separate drawers or cabinets for storage."
Focus high gloss black and walnut large TV stand launched by FurnitureInFashion is a stylish LCD/Plasma TV wall unit with gloss black fronts and stylish handles. With walnut carcass and gloss black, this unit speaks volumes of style for a contemporary and modern home. This high-end television stand is a storage house as it has 1 door compartment and 2 pull down compartments. Mr. Asad said, "This TV unit can practically stored enormous number of DVDs, CDs, wires, remote controls, newspapers and other items found in your living room. the pull down compartments have been provided with stylish silver handles adding to the overall elegance of this high end TV stand."
To provide maximum protection against heat and scratches, FurnitureInFashion has used melamine surface in its Focus high gloss black and walnut large TV stand. This protection will keep this beautiful piece lustrous and brand new for over a long period of time. There is an open compartment in walnut carcass on the side of the TV area on this unit for installing a DVD player or other entertainment boxes. There is one shelf on the top in walnut finish. Mr. Asad said. "You can display your favorite belongings and decorative ornaments in this shelf. Being on top, you wouldn't have to worry about the possible damage to your ornaments." This TV stand has been provided with silver feet to give a stylish and sturdy support. Mr. Shamim said, "Focus Entertainment unit can make a convincing and stylish statement in any room. The large section for displaying TV along with two open compartments for audiovisual equipments and two pull down flaps along with a storage door, this unit is a stunning piece of entertainment and storage furniture."
Focus high gloss black and walnut large TV stand is available at affordable price. FurnitureInFashion offers an extensive range of TV stands in wood, walnut, oak, glass and other materials with maximum storage facility and practicality. The TV stands are available in many different colors and styles to match homes, offices and other spaces elegantly.
About FurnitureInFashion
FurnitureInFashion is a UK based online retail business. It supplies furniture items from its German based warehouse and has a showroom in Bolton, UK. The company provides everything from umbrella stand wall art and room dividers to bedroom, bar stools and computer tables. FurnitureInFashion offers excellent free delivery within UK and has a fantastic customer service as well. For further information and details about the sale, visit http://www.furnitureinfashion.net