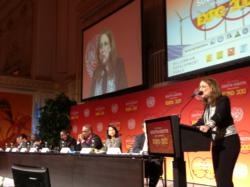 "Many solutions and strategies originate from countries of the South, which are using innovative approaches to tackling climate change, while at the same time expanding economic opportunity." -- UNDP Associate Administrator Rebeca Grynspan
VIENNA (PRWEB) November 19, 2012
The Fifth Annual Global South-South Development Expo (GSSD Expo) opened today in Vienna, with more than 600 delegates from 150 countries convening to exchange and scale-up best practices and innovative solutions to crosscutting energy insecurity climate change challenges. The conference is hosted by the UN Industrial Development Organization (UNIDO), and organized in conjunction with more than 20 U.N. agencies and partners.
The theme of the GSSD Expo 2012 is 'Investing in Energy and Climate Change: Inclusive Partnerships for Sustainable Development' as a concrete response to Secretary-General Ban Ki-moon's Sustainable Energy for All Initiative.
"This Expo highlights successful development solutions as well as the efforts of the UN system to generate momentum toward sustainable development," stressed the Secretary -General in his statement.
"The Global South is now poised to be a major force in global economic expansion," said John Ashe, Permanent Representative of Antigua and Barbuda to the United Nations and President of the UN General Assembly High-level Committee on South-South Cooperation. "By 2030 the global economy is projected to grow five-fold with two-thirds of it expected to be in the South," he added.
Rebecca Grynspan, Associate Administrator of the UN Development Programme said we can have inclusive growth while at the same time caring for the environment. "Many solutions and strategies originate from countries of the South, which are using innovative approaches to tackling climate change, while at the same time expanding economic opportunity." Grynspan said a good example of this is the Yasuni-ITT initiative in Ecuador that fights climate change "while simultaneously protecting one of the world's riches areas of biodiversity, as well as the rights and livelihoods of the indigenous people who depend on it."
We are here at this Expo to showcase solutions that do exist, said Kandeh Yumkella, UNIDO Director-General. "Transformational change is possible."
Moving forward, said Yiping Zhou, Director of the UN Office for South-South Cooperation, "we need smarter solutions, smarter partnerships and smarter investment."
Since its inception in 2008, the GSSD Expo has featured contributions from hundreds of partner countries, United Nations agencies, private sector enterprises and civil society organizations.
Please check the GSSD Expo website (http://www.southsouthexpo.org) for multimedia content and a list of participating solution providers. For more information, please contact: Rogel Nuguid, Chief of Staff, Special Unit for South-South Cooperation; E-mail: rogel(dot)nuguid(at)undp(dot)org or Adam Rogers, UNDP Geneva, adam(dot)rogers(at)undp(dot)org, tel: +41 22 917 8541; mobile +41 79 849 0679
UNDP is the UN's global development network, advocating for change and connecting countries to knowledge, experience and resources to help people build a better life. We are on the ground in 177 countries and territories, working with them on their own solutions to global and national development challenges. As they develop local capacity, they draw on the people of UNDP and our wide range of partners. Please visit: http://www.undp.org. Follow us on Twitter and Facebook.