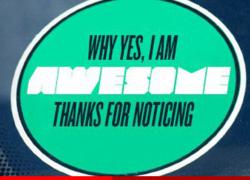 People can pay a printing service or an independent artist to design a promotional decal sticker, says Senior Vice President Matt Marcus. However, you will save money by designing a window decal on your own at an online printing company like Print360.com.
Denver, Colorado (PRWEB) November 20, 2012
Decal stickers offer a durable and inexpensive promotional tool for companies of every size, according to marketing experts at custom printing company Print360.com. A decal sticker, known to many as car window stickers or window decals, can attract new clients to a business as well as increase name or logo recognition. Print360 emphasizes the importance of creating a compelling and attractive design for decal stickers. Moreover, business strategy is advised to find an effective way to distribute the stickers, so that return on investment is maximized.
"People can pay a printing service or an independent artist to design a promotional decal sticker," says Senior Vice President Matt Marcus. "However, you will save money by designing a window decal on your own at an online printing company like Print360.com. Selecting a shape and size is easy with Print360.com's online tool and decal stickers have an estimated two-year life expectancy under normal weather conditions. That's much longer than a poster, a mailer or flyer, for instance. In terms of a marketing investment, window decals are a smart purchase," he notes.
Print360 observes that there are several different reasons why customers decide to put decal stickers on their vehicles. Some consider certain decal stickers amusing or visually appealing. Others simply like the brand or product so much that they want to recommend it. It is essential to give customers a convincing reason to use the car window stickers. "Try to create a design that sends a positive message about the driver. If possible, use a humorous or eye-catching phrase that people don't see every day. It shouldn't be too controversial unless that is part of your branding," says Marcus.
Print360 marketing experts remind consumers that motorists don't always have much time to read decal stickers. Unless the car with your window decal stickers stops at an intersection, other drivers may have to read the message from a distance. Therefore, it's important to use a brief phrase that is easy to read. If there is enough room, include some type of contact information for your business: a website address, a telephone number or a radio frequency. Alternately, use a city or street name. Don't provide details that might change in the near future. Remember that a local phone number won't work in other states without the area code.
Print360 also recommends looking at other decal stickers for design ideas. Another option is to take a walk through a local parking lot and see what types of window decals people put on their cars. This will provide a realistic look at the most popular car window stickers. After designing custom decal stickers, try to find a printing service that offers affordable rates and quality stickers. Ask about the steps they will take to protect your stickers from sunlight and rain.
The next step is to distribute your custom decal sticker. Print360 suggests many options, such as including it with your products, putting it on your personal and company vehicles, and mailing it to customers. Another option is to incentivize the use of decals stickers: pay people a small amount of money, give them a free product or offer them the chance to win a prize.
For those ready to get started with sticker decals, Print360.com is offering a 35% discount of all window decals through November 22, 2012. Simply use code THXGIV35WD to take advantage of these significant Thanksgiving savings. In addition, Print360 is offering free ground shipping on all orders over $25 during November. Window decal turnaround is usually five business days. Both standard shapes, such as ovals, circles, rectangles, as well as special shapes, including ribbons, helmets, vans, paw prints, photos and arrowheads, are all available at Print360.com and included in the special 35% discount.
About Print360:
Print360 specializes in custom printed products, including bumper stickers, business cards, buttons, product labels, envelopes, letterhead, custom magnets, mailing labels, post-it notes, return address labels, stamps and window decals. Operating in several state-of-the-art printing facilities across North America, Print360 utilizes both off-set and high-speed digital printers to meet a variety of product needs with fast turnaround times. The quality of Print360 products is a result of its team of talented print industry experts, some with more than 30 years of printing experience. Combining this expertise with high quality production capabilities, Print360 maintains its affordable prices and speed. For more information, visit http://www.print360.com and find Print360 on Facebook, Twitter (@Print360), and Google+.