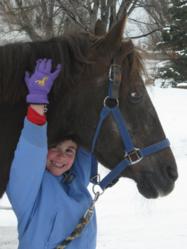 Clarence, NY (PRWEB) November 20, 2012
Spruce Meadow Farm, an active, family-friendly Buffalo NY horse riding stable located in Clarence, NY is hosting an event on Friday, November 23rd in conjunction with "Horses For Heroes" for members of the military, police, firefighters and their families.
The event will run from 4pm until 8pm the day after Thanksgiving. Families are invited to show up at Spruce Meadow Farm, 10333 Keller Road, Clarence, NY 14031 during these hours to meet the horses and participate in a variety of activities.
There will be rescue dogs, some of which have been trained as Search & Rescue dogs and have been given jobs with disaster response teams and K-9 units.
Duriel Logan, of Niagara County K9, and her son Bailey will share information about their experiences rescuing and training these amazing animals.
Duriel grew up helping her father train hunting dogs. She became involved with a scent detection dog team where she learned hands on, how to train scent specific dogs. She has helped train a number of dogs that are now working in law enforcement agencies throughout the United States. All of her search and rescue, explosive and cadaver and narcotics services are free to law enforcement in Niagara and the surrounding counties.
Families that attend the event will also learn about horse rescue, meet rescue horses, learn how to groom and lead a horse, get a pony ride, watch demonstrations, enjoy refreshments and participate in a basket raffle to benefit the rescue horses of Phoenix Rising Equine Rescue & Rehabilitation.
A wonderful opportunity to attend a fun-filled and informational event!
If you visit Spruce Meadow Farm's website you will see that there are new fall/winter deals that have arrived just in time for the holidays. These "deals" make great gifts…either to yourself or someone else. For an informational video on the Horses for Heroes event from last year, please visit http://video214.com/play/cu4tmfZNvtcmG3i9SU6c1Q/s/dark.
There is a "free lesson deal" where you receive a free riding lesson if you purchase three lessons at regular price. A private riding lesson is $35, so for $105 you receive four lessons instead of three. A $145 value for $105.
The second deal is a "Winter Break Horse Camp deal." Spruce Meadow Farm offers horse camp during all of the school breaks. The first winter break camp will be held Thursday December 26th-Saturday December 29th from 9am-2pm. If you purchase the deal you will receive $50 off the regular price of $265, making the camp $215.
A nice feature of the fall/winter deals is that they can be purchased either by calling the farm at (716) 741-2346 or online, on the website through Paypal. Gift certificates are available either way.
Gift certificates are always available in any amount to be used towards riding lessons, horse training, horse boarding or horse camp!
The farm is continuing its social marketing campaign. As the business expands their influence into social media, they would like to announce a special Facebook discount on riding lessons: everyone who "likes" the farm on Facebook will receive a $10.00 discount.
Once you have "liked" the page, just email the farm at sprucemeadow@gmail.com and you will receive your discount!
For more information, sign up to the email list at http://www.SpruceMeadowFarm.net. Also Like Spruce Meadow Farm on Facebook at http://www.facebook.com/pages/Spruce-Meadow-Farm/130721866961074 and follow them on https://www.Twitter.com/@Spruce_Meadow
About the company:
Located at 10333 Keller Road in Clarence, New York, Spruce Meadow Farm focuses on English horseback riding and offers boarding & leasing, training, horse lesson riding, horseback riding camps, horse shows, clinics, all kinds of horseback riding in New York and much more!
They take pride in their friendly atmosphere, facilities and the effectiveness of their programs, and invite people to experience it for themselves. At Spruce Meadow Farm, they want all animals to find safe, loving homes. For more information, please visit their site at SpruceMeadowFarm.net.