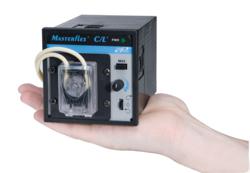 Vernon Hills, IL (PRWEB) November 19, 2012
Masterflex® C/L® Tubing Pumps from Cole-Parmer now feature a redesigned head with significant mechanical and ergonomic improvements. The new head provides more secure tubing retention and more consistent performance over the full range of tubing sizes and flow. A single motion opens the cover and releases the occlusion bed for quicker and easier tubing changes. Tubing retainers are self adjusting to accommodate tubing of different diameters.
The peristaltic pumps are encased in a stackable, compact ¼-DIN housing for mounting in an equipment rack or for convenient placement on a lab bench. Pump head construction is of chemical-resistant engineered plastics and stainless steel. In addition, these pumps offer the flexibility of remote start/stop via contact closure, reversible flow, and a max-speed button for fast priming.
Three motor speed ranges deliver a flow range of 0.002 to 43 mL/min depending on tubing size. These pumps accept microbore/autoanalysis tubing in continuous lengths for fast, easy loading with no occlusion or tension adjustment. Masterflex tubing is available in rolls of 50 or 100 feet—cut to length for an uninterrupted flow path with no fittings or connections.
For more information, call 800-323-4340 or visit ColeParmer.com/19560.
Cole-Parmer has been a leading global source of laboratory and industrial fluid handling products, instrumentation, equipment, and supplies since 1955. Our product lines, including popular brand names such as Masterflex®, Oakton®, and more, are sold through company-owned customer channel outlets and a strong network of international dealers. We also feature an ISO-17025-accredited metrology lab for instrument calibration and repair. Cole-Parmer responds with excellence to customer needs, and offers application expertise and technical support. For more information, contact Cole-Parmer, 625 East Bunker Court, Vernon Hills, IL 60061. In the US, call 800-323-4340. International customers, call 847-549-7600. Visit us at http://www.coleparmer.com.