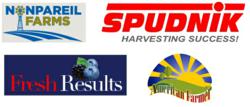 Jupiter, FL (PRWEB) November 20, 2012
DMG Productions announced today that an upcoming episode of American Farmer, centered on innovations in the agriculture industry, will air on Tuesday, November 20, 2012, at 8:30 a.m. EST on RFD-TV.
This episode provides viewers with a behind the scenes look at the agriculture industry, featuring three different companies whose innovative farming technologies are revolutionizing the industry.
Known as the "potato ingredient" company, Nonpareil is the only fully integrated potato company in the United States. Along with an extensive research and development division, Nonpareil grows, fresh packs, dehydrates, freezes and distributes potatoes and potato flakes. In this episode, audiences will be amazed by Nonpareil's producing techniques, as they are given an in-depth look at some of the most unique potato products in the industry.
American Farmer will also feature Spudnik, an equipment manufacturing company that was started in 1958 by two brothers who worked for an Idaho potato farmer. Viewers will learn about brothers Carl and Leo Hobbs, who worked together to come up with a machine that would remove potatoes from a pile in order to eliminate the back breaking labor of loading potatoes with a fork, and will see how Spudnik has revolutionized the industry by continuing to meet the needs of potato growers in both field and storage equipment across the globe.
Additionally, this episode will showcase Fresh Results, one of the largest blueberry marketers in the world. Fresh Results has been a preferred vendor for some of the top retailers in North America for more than 10 years. The episode will highlight the popular berry's health and nutritional benefits, and will explore hot topics such as vertical integration, genetic modification, food safety, and meeting year-round global food demands.
"This episode of American Farmer is packed with produce," said Charlie Cowan, Senior Producer for American Farmer. "Spectators will be intrigued by what these companies have been doing, and I'm thrilled to be able to bring this information to our viewers."
About American Farmer:
American Farmer is a breakthrough program on a mission to showcase the latest advancements in agriculture and farming. From seed to harvest, livestock and more, our producers have traveled the country covering the people, places and issues impacting all areas of farm country.
About DMG Productions:
The DMG production team consists of producers, cameramen and editors that have worked for CNN, TLC, Discovery, and other major news and cable networks. Our staff includes personnel specialized in various fields from agriculture to medicine, independent films to regional news. Our field producers utilize the core concepts from our producers who storyboard our programs, and work closely with experts in the field to develop the educational programs. This powerful force enables us to consistently produce commercial-free, educational programming that both viewers and networks depend on.
Contact:
Charlie Cowan
Senior Producer, American Farmer / DMG Productions
(866) 496-4065 X 875
charles (at) dmgproductions (dot) org