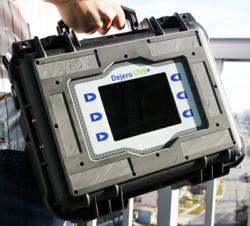 "Since its founding in 2008, Dejero has quickly distinguished itself for its innovative technology and entrepreneurship."
Waterloo, ON (PRWEB) November 19, 2012
Dejero, creator of the award-winning LIVE+ bonded cellular newsgathering solutions, has won a coveted Companies-to-Watch Award as part of the 15th annual Deloitte Technology Fast 50™ Awards. Launched 15 years ago, the Technology Fast 50 is the pre-eminent technology awards program in Canada that recognizes leadership, innovation, and excellence in the technology sector.
To win a Companies-to-Watch Award, candidates must display the kind of management expertise and superior technology that mark a successful early-stage company poised for continued growth. To qualify for the Companies-to-Watch Award, candidates must have been operating less than five years. They must also be headquartered in Canada and devote a significant portion of their operating revenues to creating proprietary technology and/or intellectual property.
"Companies-to-Watch award winners are outstanding organizations that are poised for continued growth. These companies show potential to be future leaders in the Canadian technology industry and often rank in the Deloitte Technology Fast 50™ once they have a five-year track record," said Richard Lee, National Leader, Technology, Media & Telecommunications Industry Group, Deloitte. "Since its founding in 2008, Dejero has quickly distinguished itself for its innovative technology and entrepreneurship."
"On behalf of the entire team at Dejero, we are thrilled to be recognized by Deloitte as a winner in the prestigious Technology Fast 50 Awards," said Brian Cram, CEO for Dejero. "We have had a tremendous year, delivering very strong revenue growth, multiple high profile customer wins, continued international expansion, and several innovative product launches. Dejero is proud of our track record in delivering innovative Video over IP Transport and Management solutions to broadcasters around the world."
About the Deloitte Technology Fast 50™
The Deloitte Technology Fast 50™ program is Canada's pre-eminent technology awards program. Celebrating business growth, innovation and entrepreneurship, the program features four distinct categories including the Technology Fast 50™ Ranking, Companies-to-Watch Awards (early-stage Canadian tech companies in business less than five years, with the potential to be a future Deloitte Technology Fast 50™ candidate,) Leadership Awards (companies that demonstrate technological leadership in four industry subcategories: hardware/semiconductor, software, telecommunications and emerging technologies) and the Deloitte Technology Green 15™ Awards (Canada's leading GreenTech companies that promote a more efficient use and re-use of the earth's resources in industrial production and consumption.) Program sponsors include Deloitte, Gowlings, Wellington Financial, TMX Group, HUB International HKMB, National Angel Capital Organization, CVCA, MaRS and IGLOO Software. For further information, visit http://www.fast50.ca.
About Dejero
Dejero, based in Waterloo, Ontario, Canada, expands newsgathering capabilities and redefines live broadcasting through its portable LIVE+ Platform of cellular uplink products. Dejero LIVE+ products enable both traditional and online broadcasters to transmit high quality HD or SD live video from a variety of mobile devices: professional grade rugged transmitters, laptops, tablets, and smart phones. Dejero LIVE+ products can be set up anywhere in seconds to broadcast live to television viewers, stream to the web, transmit recorded video for later use, share video content with other organizations, or send files remotely – all at the push of a button.