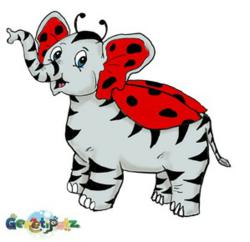 Once we fund our project in its entirety, we can then move to the next phase - production.
(PRWEB) November 19, 2012
What happens when a zebra's stripes are put on the body of an elephant with a ladybug's wings? The result is a zebugraphant. Genetipetz, a new start-up company based out of Charlotte, North Carolina, has looked to crowdfunding to bring their unique plush toy combinations to creative children around the world.
The project's chosen platform for funding is Kickstarter, one of the most popular crowdfunding sites out there. When Genetipetz first launched their project on October 23, they reached almost 50% of their funding goal of $20,000 within the first 24 hours.
The super-soft, lovable and huggable toys mix the best characteristics of different animals to celebrate science and diversity. Christopher Meade, former CEO of NPower, created the Genetipetz brand with his two sons, Jackson, 10 and Cavan, 8, with the intention of teaching them how to start a company from the bottom up with an entrepreneurial state of mind. The two boys have worked extremely hard on their family project and definitely have what it takes to bring this product to the market for kids everywhere.
"Once we fund our project in its entirety, we can then move to the next phase - production," says Meade. "I am just so proud of my boys who have been working around the clock to really kick this project off the ground."
Genetipetz needs to raise $20,000 on Kickstarter in order to reach their funding goal and bring the super-cute, plush toys to production. With just 10 days left in the project's campaign, they only need $4,000 to successfully reach their goal.
The campaign ends on November 28 at 7:00 PM EST. If you would like to help Genetipetz reach their goal, they offer rewards in exchange for donations. Rewards range from the actual Genetipetz stuffed animals to creating a brand new animal combination to starring in the next Genetipetz video. Visit http://bit.ly/GPetz to help support the project.
About Genetipetz
Genetipetz is a new company based in Charlotte, NC that creates unique stuffed animals for creative kidz by combining the DNA structures of different animals. Founder and CEO, Christopher Meade was inspired by his children to develop Genetipetz and show children around the world the strength of diversity. Meade's two children, Jackson and Cavan, serve as Vice Presidents of Design and Marketing of Genetipetz, respectively. For more information on the company, visit their website at http://www.genetipetz.com, Like Genetipetz on Facebook and Follow them on Twitter @Genetipetz.