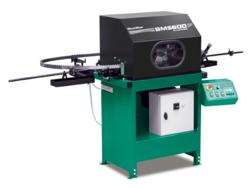 All Wood-Mizer sharpeners utilize CBN grinding wheels manufactured by Wood-Mizer to precise specifications.
Indianapolis, Indiana (PRWEB) November 19, 2012
Wood-Mizer Blades has just announced a new line of sawmill band blade sharpeners & tooth setters designed to better meet the varying needs of professional operations and the occasional user.
The BMS500 blade sharpener was recently announced to the U.S. market and is designed to handle up to 3" blades with the performance to sharpen hundreds of blades per week. Its Auto-Run mode saves time, improves efficiency, and the 8" CBN wheel is powered by a 1hp motor for consistent, accurate full-profile grinds. The BMS500 is able to be adjusted for different blade sizes and lengths used in various operations.
For lower blade volume needs, the new BMS200 and BMS250 models are steady performers with minimal downtime and easy setup. All Wood-Mizer sawblade sharpeners are based on superior CBN wheel technology with sharpening wheels manufactured by Wood-Mizer to meet precise specifications.
The new BMT250 tooth setter has been upgraded and sets the bar for accurate and consistent sets on band blades up to 3". This machine is designed with an automatic feed system that ensures blades will be in top shape for maximum performance. The BMT200 tooth setter is an economical alternative to set both sides of blades with a hand crank.
Other new products from Wood-Mizer Blades include a 3" blade which is an excellent and more economical replacement for 4" and wider bands. Another new addition is the carbide-tipped blade for cutting tropical and extremely hard wood species.
Wood-Mizer is passionately dedicated to offering the latest blade and blade maintenance technology to meet the evolving needs of customers. To see the full line-up of products, visit http://www.woodmizer.com. To talk to a blades consultant about your needs, call 800.522.5760.
###
Wood-Mizer, celebrating 30 years of building portable sawmills, offers an extensive line of portable and industrial sawmill equipment. The company supports its equipment with legendary customer service, blades, and blade maintenance equipment.