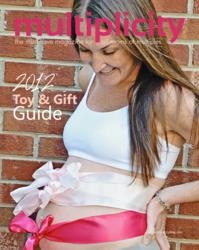 New York, New York (PRWEB) November 19, 2012
Ending a successful first year in business, Multiplicity Magazine will launch its first annual Toy/Gift Guide on November 7th in plenty of time for the holidays ahead. A quarterly, digital publication focused on lifestyle topics, issues affecting multiples, and information on raising twins or more, Multiplicity has become the must-have magazine for moms and parents of multiples.
This year's Guide will focus on a few of the best gift ideas, with suggestions for everyone in the family. Though not at all specific to Christmas, the Guide will certainly help many families when choosing gifts for the upcoming holidays. Articles will also focus on general party planning tips, buying in bulk and even crowd-pleasing recipes that can be used year-round.
Developed and created by moms of twins, Natalie Diaz and Talitha McGuinness know the types of information that moms of multiples seek and need to help raise their children successfully. Collectively, the team has more than 25 years' experience in the Marketing and Communications industries.
Multiplicity currently has more than 12,000 subscribers in over 20 countries worldwide, and reaches more than 65,000 families each month through social media outlets. Each issue is complimentary and the winter 2013 issue will launch in January. For more information, visit http://www.multiplicitymag.com.