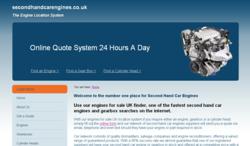 The current system for foreign drivers wishing to obtain full British permits is very accommodating
Bolton, Lancashire (PRWEB) November 19, 2012
The figures which were obtained under the Freedom of Information Act revealed more than 1 million foreign drivers have exchanged their licences for a British version in the last 15 years. The current system recognises licences from 50 countries, allowing their owners to exchange them for legal British versions after 12 consecutive months of legal residency, without the obligation of passing a standard UK driving test.
'The current system for foreign drivers wishing to obtain full British permits is very accommodating,' says John Edwards, sales manager of Bolton-based SecondHandCarEngines.co.uk, who provides guaranteed second hand car engines for private, commercial and industrial use. 'But with increasing amounts of foreign licences being exchanged, will it affect the safety of drivers on the UK roads?'
Foreign licence exchanges saw a peak in 2007 of 96,935 which feel in 2009 to 79,187. The last three years has seen an increase again resulting in 83,553 foreign licence exchanges in 2011.
'New UK drivers have previously completed rigorous testing to obtain their British driving licence,' says John Edwards, supplier of second hand car engines and used gearboxes. 'Currently learner drivers must pass a Theory test and a separate test to assess their understanding of motoring and display that they understand safe driving practices. Practical and theory tests are not mandatory in the other 50 countries that the UK exchanges driving licences with.'
Nearly 50% of the foreign licences exchanges since 1997 were first awarded in a country where motorists do not drive on the left of the road as standard.
'It is not that I am opposed to foreign drivers obtaining UK driving licences in the slightest, but the current system does not enforce the same mandatory assessments we employ to regulate our own learner drivers,' explains John Edwards, who provides second hand gear boxes and used cylinder heads to mechanics around the country. 'Some foreign drivers who have obtained their own UK driving licences might be the safest drivers in the world, but equally, they could be more hazardous than an unqualified UK learner driver, especially if they have not passed assessments to ensure their understanding of basic things like road signs and markings.'
'These figures reflect Britain's multi-cultural society demonstrating that we are welcoming an increasing number of motorists to our shores who are choosing to live and drive here,' says Robin Reames, Chief Claims Office at SwiftCover.com who uncovered the statistics. 'However, UK roads are very different to those overseas so it's vital that new motorists learn as much as they can, which could include taking a few lessons from an instructor if necessary.'
'The current system cannot guarantee the safety of foreign drivers,' says Ford engines supplier, John Edwards. 'When anyone from any country is driving, you have to remember that you can be the safest driver in the world but there is still a risk of incident with other vehicles and actors that you cannot possibly control. The current system gambles on that safety by presuming that all drivers have been trained to the same high standard, when in reality the basic standards vary wildly from country to country.'
Foreign motorists from South Africa have topped the figures since 1997 with 149,897 exchanges since 1997, with Australia close behind with 103,053.
'The mandatory assessments to gain driving licences in other countries do vary,' explains Peugeot engines supplier, John Edwards. 'In some countries, learner drivers have an oral test and a practical test only, whilst others have a very basic assessment before a licence is awarded. Although these tests individually might suit the road network and culture they're designed for, they may not necessarily be as safe or reliable on the UK's roads,'
When countries joined the EU in 2004 this allowed motorists from more countries to exchange and gain a British Licence. Since then, Polish drivers have exchanged 135,079 licences (8,442 per year), Bulgarians 18,719 and Hungarians 21,714.
At the lower end of the scale, 2,334 Japanese, 2,895 Hong Kong and 836 South Korean motorists have gained a UK driving licence since 1997.
'There is a big difference between driving in Japan and driving in the UK,' explains John Edwards, who supplies Vauxhall engines and BMW engines for private and commercial use. 'I'm a confident driver, but there's a big difference between driving to work on busy UK roads and cruising through the steep valleys of Bulgaria,'
'While the fact that the UK recognises licences issued in certain countries shows that driving tests in those countries are likely to be of a high standard, it's important to recognise that driving in the UK is unique in many ways,' Robin Reames added. 'As such, it's important for everyone planning to drive in the UK to take the time to become familiar with UK road signs and speed limits, as well as driver etiquette – exactly as British motorists should when driving abroad.'
'UK motorists should be aware of these statistics and always exercise caution around other drivers, regardless of where they may have emigrated from,' says Citroen engines supplier, John Edwards.
'You are responsible for your own vehicle but you can never guarantee that other drivers in your vicinity will be as safe. These statistics are a stark reminder that not every other motorist on the UK's roads may have been assessed to the highest of standards yet they are still completely legal. I'm urging all of my customers - both the independent motorists and the business owners dependent on company vehicles or whole fleets to raise an awareness amongst staff that these statistics highlight increased risks on the UK roads that can be avoided if we are vigilant.'