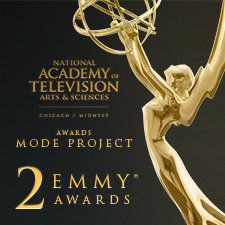 Mode Project has won two Emmy awards from the National Academy of Television Arts & Sciences, Chicago / Midwest Chapter.
Chicago, Il. (PRWEB) November 20, 2012
Mode Project, a Chicago-based design and production studio, has won two Emmy awards from the National Academy of Television Arts & Sciences, Chicago / Midwest Chapter. NATAS is the most widely recognized organization dedicated to the advancement of excellence and creative achievement in television and new media.
One Boy's Story, a PSA, won for Outstanding Achievement for Community/Public Service (PSAs) and Outstanding Crafts Achievement Off-Air - Graphics Arts/Animation/Art Direction/Set Design. The spot was created for the non-profit organization, Court Appointed Special Advocates (CASA), dedicated to providing volunteer advocacy for abused and neglected children. The spot, blending live-action with 3D animation, tells the story of a young boy who was abandoned by his parents, but with the help of a CASA volunteer, was adopted into a loving family. Previously, "One Boy's Story" was recognized with a Silver award for Art Direction & Design in the 2012 PromaxBDA North America Design competition.
Mode Project also received a nomination for the brand film, The Doughnut Vault, for Outstanding Crafts Achievement Off-Air: Photographer – Program. Produced and directed by the Mode team, "The Doughnut Vault" documents the sights and sounds of the Chicago boutique doughnut seller. The film focuses on the essence of what goes in to making the shop's popular product, and previously won "Best Super Short" at the Chicago Food Film Festival, and was an official selection in the Chicago International Shorts Film Fest.
"As always, the Chicago / Midwest Emmy Awards were full of extraordinary projects produced by talented creatives with an unparalleled passion for their work," said Mode Project President Colin Carter. "Our whole team is incredibly honored by this recognition, and we offer our congratulations to all of the winners."
These projects demonstrate the diverse capabilities of the studio, which creates original content for an expanding client roster that includes global ad agencies, non-profits, and major brands such as Gogo, Marriott International, AT&T, United Airlines and UPS.
The Chicago / Midwest Emmy awards add to Mode Project's growing list of industry recognition, including Cannes Lions Titanium and Integrated Grand Prix awards, New York Festivals World Medals, and Promax/BDA North American Design Awards.
About Mode Project:
Mode Project creates distinctive content for the advertising, marketing and entertainment industries. The Mode team offers concept development and creative services for broadcast and digital media, including production, design, animation, editorial and finishing.
Visit http://www.modeproject.com for more info.