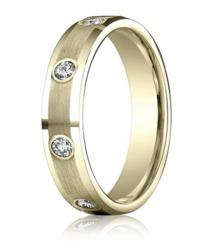 Shoppers looking to find the perfect men's wedding band or anniversary ring need not wait until Black Friday to enjoy holiday savings: Mens-Wedding-Rings.com's has just commenced its annual 10% off site-wide Holiday Sale
Jensen Beach, FL (PRWEB) November 20, 2012
Shoppers looking to save on men's wedding bands and anniversary rings before Black Friday and Cyber Monday are in luck: online retailer Mens-Wedding-Rings.com (MWR) has just commenced its annual Holiday Sale. This limited time seasonal sale allows customers to save an additional 10% site-wide on top of MWR's everyday low prices.
Offering an impressive and varied selection of men's rings, Mens-Wedding-Rings.com has something for virtually every taste and budget. While the focus of the site is on men's wedding bands, the men's rings available for purchase on MWR also make for great promise rings, anniversary bands and general holiday presents. With available styles ranging from classic plain domed bands to more elaborate modern designs, Mens-Wedding-Rings has rings in virtually every jewelry material, from precious metals like platinum, gold and palladium to contemporary materials including tungsten, titanium, ceramic, stainless steel, cobalt chrome and Argentium silver.
Holiday shoppers have recently been particularly drawn to the numerous diamond styles listed on MWR. With men's diamond rings starting in the low $300s (before discount), customers can easily find diamond bands in contemporary or traditional designs, with black or white stones, and in setting materials from luxurious and rare platinum to durable and affordable Argentium silver.
MWR's Holiday Sale is well-timed for last minute wedding band purchases, as well as for those shoppers who prefer not to get caught in the hustle and bustle of shopping for Black Friday deals at crowded brick-and-mortar stores. While Mens-Wedding-Rings.com offers a number of budget-friendly rings under $50, luxury options are also readily available well below normal retail pricing. Quality is evident in all of MWR's products; MWR carries the designer brand Benchmark exclusively, known for offering unparalleled craftsmanship and adhering to the strictest manufacturing standards.
"This season is a time to spend with your loved ones, not stressing out about buying a last minute wedding ring or holiday gift," notes Men-Wedding-Rings.com's president and owner Roy Devine. "While MWR is dedicated to offering everyday low prices, we wanted to give back even more to our customers this holiday season."
The Holiday Sale allows customers to save 10% on all items on the Mens-Wedding-Rings site for a limited time, even on rings that have previously been discounted. Shoppers at MWR are able to enjoy free worldwide shipping, a 30 day money back guarantee and a lifetime warranty on all rings. Most in-stock items ship the same or next day after an order is placed.
About Men's-Wedding-Rings.com
Mens-Wedding-Rings is a niche online jewelry store for men's wedding rings and bands. Customers can find the best quality men's traditional and alternative wedding rings in this specialized retail environment. From major designer bands in traditional and alternative metals to non-designer rings in stainless steel, titanium, tungsten, sterling silver and cobalt, Mens-Wedding-Rings is a one-stop source for men's wedding bands and rings. Owners Roy and Judy Devine make it their goal to ensure their customers are completely satisfied, selling only high quality rings at excellent prices. MWR customers enjoy free shipping and a 30 day money back guarantee, and have come to expect the highest standards of service, selection and quality when they shop at Mens-Wedding-Rings. MWR offers the best selection of men's rings on the Internet, many of which are available through size 20.
For more information on MWR, please visit Mens-Wedding-Rings.com.
For further information, please contact:
Roy & Judy Devine, Owners
800-676-0363
roy(at)mens-wedding-rings(dot)com