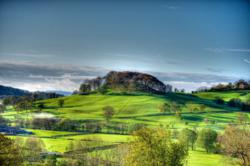 A wealth of knowledge, photographs, local news and information.
Peak District, UK (PRWEB UK) 21 November 2012
The Peak District wildlife section of http://www.peakdistrictonline.co.uk has just got a little larger, but with a very tiny addition to its pages.
Popping up with perverse pleasure at unexpected moments, pleasing Peak District visitors, the Pied wagtail is a delight to behold.
'The Pied wagtail has to be one of the happiest looking birds in the Peak District,' explains James Dobson, director for the largest holiday accommodation directory for the Peak District anywhere online. 'With its long tail constantly wagging up and down, it seems to be either waving hello or saying goodbye, depending on the direction it is going.'
Not only does James collate and research information, amongst a whole host of jobs relating to the website, but he's also the resident wildlife photographer for the company.
'I'm pretty sure the pied wagtail featured on this page is the same one. He seems to follow me nearly every morning, wagging his tail happily on the dry stone walls as I am crouched waiting for the buzzard to arrive for example, or perhaps the family of little owls, I have the privilege to photographs on a regular basis. It is often mistaken for a baby magpie but it is much smaller than that, in fact only a little bigger than a great tit. Like a spaniel, its most distinguishing feature is its wagging tail and it never seems to stop.'
With a website attracting record visitor figures recently, the team at Peak District Online feel the pages like this particular one, certainly add to their exposure but also to their popularity.
'We are convinced that visitors to the Peak District at the weekend, long to have a reminder of their time spent there while they are cooped up in the office,' explains Steve Wake, fellow director and landscape photographer for Peak District Online. 'What better way to remind yourself and having your tea break, browsing the pages and looking at the photographs about the area you would possibly like to live in, but would certainly like to return to.'
Steve is very passionate about the Peak District, along with all his staff, and is the resident landscape photographer of the company.
'I specialise in taking photographs of each Peak District village and we are currently expanding this section. Our other websites, our 'let's go' range, are a portfolio of expanding titles aiming to cover every peak district village in all its glory. It's a very exciting time for us, and it also means I get to go out and sample the atmosphere and delights of each village, capturing it on camera and indulging in my hobby.'
Not only is the natural history section its most popular at the moment, but the team themselves admit they are learning as they go along as well.
'I've learned so many new things reading what our researchers have found to accompany photographs,' laughs James. 'For example, did you know that the Pied wagtail finds lots more of its kind to gather together at dusk, and congregate in large gangs on roofs to form large roosts in city centres? They choose city centres rather than the open countryside because it can be five or 6° warmer there, which can literally mean the difference between life and death for such a tiny bird. The heat generated from city buildings also means that insects are in abundance at this time of night.'
With a wealth of knowledge, photographs, local news and information, check back regularly to the pages at Peak District Online and keep up-to-date with all dealings about Derbyshire.