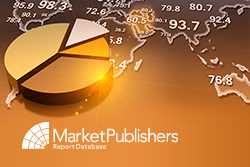 London, UK (PRWEB) November 19, 2012
Since 2009, China has been the leading titanium dioxide (TiO2) production and exporting country due to the considerable production growth in the recent years, which was spurred by the high domestic demand. Nevertheless, Chinese technologies are considered to be outdated and, therefore, require upgrading.
China's TiO2 imports and exports in August 2012 dropped by 14.2% and 22.2%, respectively, compared with July 2012. Domestic titanium concentrate ore output in 2012 is likely to enhance by nearly 20% compared with that in 2011.
New market research report "TiO2 China Monthly Report 1210" created by Guangzhou CCM Information Science & Technology Co., Ltd (CCM) has been recently published by Market Publishers Ltd.
Report Details:
Title: TiO2 China Monthly Report 1210
Published: October, 2012
Pages: 12
Price: US$ 3,013.00
http://marketpublishers.com/report/metal_oxides/titanium_dioxide/tio2-china-monthly-report-1210.html
The research report offers the monthly overview of the Chinese TiO2 market as well as discusses the country's contribution to the global TiO2 production. The market study provides the essential data on TiO2 prices, supply, demand, export and import. The relevant information on the performance of the leading market players is available in the report, too.
Report Contents:
Supply & Demand
China's TiO2 export and import situation in Aug. 2012
Company dynamics
DuPont to supply TiO2 to First Coating for five years
Z-Ti completes its 30,000t/a synthetic rutile project
Imported VS domestic: imported TiO2 losing its advantages
After-treatment TiO2 manufacture in China
Kronos' Q3 performance indicating market trend
Upstream
Titanium feedstock import situation in China in Aug. 2012
Hiking Group signs ten-year titanium feedstock purchase contract with QIM in Australia
Output and price of domesic titanium concentrate ore from Jan. to Aug. 2012
Sipeng Chemicals to build TiO2 after-treatment product production line
Downstream
Coating output distribution in China
Some domestic coating brands accused of exaggerating products'oxymethylene-eliminated function
Price Update
TiO2 price keeps stable in China in Oct. 2012
More new market research reports by the publisher can be found at CCM page.