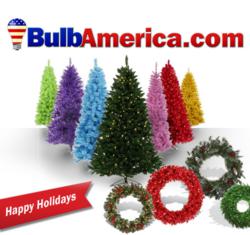 With Christmas right around the corner, what could be better than stocking up on all the accessories for your Christmas tree. Celebrate Christmas with a huge range of indoor and outdoor lights that are available exclusively at BulbAmerica
Brooklyn, NY (PRWEB) November 21, 2012
With Christmas right around the corner, it is time to start thinking of pretty accessories and indoor and outdoor lights. BulbAmerica added a massive range of products to their exhaustive inventory of light bulbs and lighting fixtures exclusively for Christmas. Right from Christmas trees and wreaths to LED net, tear drops, sphere, rope, and novelty lights, there is plenty for customers to choose from. Their LED and incandescent light strings in the shape of icicles are perfect to create a warm and festive atmosphere for Christmas.
All these products are available at the website and a user friendly product selection dropdown menu makes it easy for customers to pick all that they need in this one stop shop. A variety of lighted décor in incredible designs and patterns of all shapes and sizes are also available at http://www.bulbamerica.com.
A representative of BulbAmerica.com says, "With Christmas right around the corner, what could be better than stocking up on all the accessories for your Christmas tree. This year, we bring you an amazing variety of LED lights including, but not limited to light spheres, rope lights, and novelty and tear drop lights. Celebrate Christmas with a huge range of indoor and outdoor lights that are available exclusively at BulbAmerica."
BulbAmerica, the largest online retailer of light bulbs and lighting fixtures in the Unites States has been a part of the lighting industry for close to ten years now. Their exhaustive inventory of quality products includes, but is not limited to fluorescent, halogen light, LED, CFL, and incandescent bulbs, projector lamps, and various LED lighting options. For more information about these high efficiency light bulbs that they offer at BulbAmerica, visit http://www.bulbamerica.com or call 1-877-650-0775.