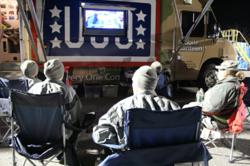 Arlington, VA (PRWEB) November 19, 2012
WHAT: For more than two weeks, the USO has been supporting the thousands of troops deployed to Floyd Bennett Field in Brooklyn, NY aiding with Sandy Relief. With standing room only, a Mobile USO Canteen and a 30 x 30 temporary USO tent are the hub of the action at the tent city and are stocked with snacks, water, hygienic items as well as connectivity like free Wi-Fi and laptops to stay in touch with family back home. The heated Mobile USO is also providing entertainment activities like video games, movie night and game night - staying open late for televised football games watched outside on the exterior television screen. Requested by the military command, the Mobile USO has been at the tent city since November 5th and has plans to support the troops throughout Thanksgiving.
WHEN: Arrived November 5 and through Thanksgiving
WHERE: Floyd Bennett Field in Brooklyn, N.Y.
WHO: USO of Metropolitan New York Executive Director
Mobile USO Program Manager
USO volunteers
Troops
WHY: USO of Metropolitan New York received a call the morning of Friday, November 2, from the 369th Regiment Armory (Harlem Hellfighters) asking for support. The USO rallied staff to create a USO Mobile Convoy of four vehicles and provide support to these men and women who have come to New York City's aid. The Mobile USO Convoy is comprised of staff and vehicles deployed from USO Centers in North Carolina and Dover, Delaware, and the USO regional office in Norfolk, Virginia. For more information about Mobile USO operations please visit http://www.uso.org/mobile-uso.aspx. Or to donate please visit: https://usonyc.org/donate/.
NOTE: Interested media please contact Gayle Fishel for exact Mobile USO locations and access to the tent city at Floyd Bennett field information. Phone interviews are also available with USO of Metropolitan New York Executive Director Brian Whiting. gfishel(at)uso(dot)org or 703-908-6433.
About the USO
The USO (United Service Organizations) lifts the spirits of America's troops and their families millions of times each year at hundreds of places worldwide. We provide a touch of home through centers at airports and military bases in the U.S. and abroad, top quality entertainment and innovative programs and services. We also provide critical support to those who need us most, including forward-deployed troops, military families, wounded warriors and their families and the families of the fallen.
###