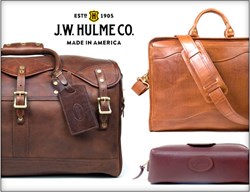 Toronto, Canada (PRWEB) November 20, 2012
Fendrihan, a Canadian retailer of high-end shaving and other grooming products designed for men, continues to expand its product line-up by adding a number of leather goods made by J.W. Hulme Co. Each item included in this selection is crafted by American artisans using tested techniques and the finest materials. As a result, these products make for fitting additions to Fendrihan's line-up, which is famous for placing emphasis on product excellence over other considerations.
Despite being founded back in 1905, this is the first time that J.W. Hulme Co. has permitted its products to be sold in Canada through online retailers. Products made available to Canadian customers through Fendrihan include but are not limited to bags, briefcases, and travel kits, all made by hand using a combination of canvas and leather.
To promote these products among both its Canadian clientele and those of its customers in the United States, Fendrihan has declared J.W. Hulme products sold through its site eligible for free shipping with a minimal purchase of $50 for Canada and $75 for the United States. This free-shipping threshold — a holiday shopping feature offered by this retailer — will be available until December 8, 2012.
About Fendrihan:
Fendrihan is a Canadian-based online vendor that supplies elegant gifts for men as well as fine shaving and grooming products from all over the world. With a range of products that is constantly growing and expanding, it is no surprise that Fendrihan has an international following. The Fendrihan compendium also includes fine writing instruments and standout European leather accessories offering the organization and clever convenience demanded and appreciated by their customers.