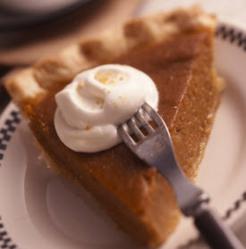 This butter pie crust recipe has only four ingredients and uses a kitchen-tested technique to produce a beautiful pie crust.
Arden Hills, Minnesota (PRWEB) November 20, 2012
When it comes to Thanksgiving dinner, there are a few basic components that rarely change. The meal may start with an appetizer, feature side dishes to accompany the Thanksgiving turkey and, on most American holiday tables, there will be pie for dessert.
"Pie is one of America's favorite desserts – especially Classic Pumpkin Pie and Sugar-Crusted Apple Pie," says Becky Wahlund, director of the Land O'Lakes Test Kitchen. "Many home cooks have a pie recipe for the holidays that's been handed down over generations." For those just starting out, easy-to-follow Land O'Lakes recipes for Homemade Sweet Potato Pie, Apple Ginger Pie or even Chocolate Pecan Pie Recipe could be the start of a new tradition.
Beginning bakers and experienced cooks are often intimidated by the thought of making a pie crust from scratch, but the Land O'LakesLAND O'LAKES® Butter Pie Crust recipe has only four ingredients and uses a kitchen-tested technique to produce a beautiful pie crust. "The key to a flaky crust is the butter in the recipe," explains Wahlund. "Butter creates flakiness by acting as a spacer between the layers of dough. If the butter is very cold and firm when the dough goes into a hot oven, the layers of dough will be spaced apart as they begin to bake and set, resulting in a flaky pie crust."
Decorative pie crust edges make even a simple pie look impressive. The Land O'Lakes Test Kitchen has easy-to-follow tips and techniques for making beautiful pie crust edges. "Creatively decorating the edge of a pie or using pastry cut-outs on the top of the pie is easy, and many designs don't require any additional kitchen tools," says Wahlund. "You can create a fluted or ruffled edge, just by using your fingers to pinch and shape the pie crust dough. A rope edge may be even easier for beginning bakers, and if you have time, using small cookie cutters to cut out pastry dough into shapes makes a really pretty crust."
"People attach tremendous importance to the holiday meal and especially to the desserts that they've enjoyed year after year at the end of dinner," says Wahlund. "These pie recipes and helpful tips can help you maintain tradition, or start a new tradition with your own family."
For more great pie recipes, menu ideas, and cooking tips and techniques, visit LandOLakes.com.