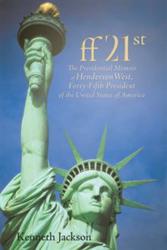 Our model of representative democracy is completely ineffective in the modern world.
Nova Scotia (PRWEB) November 28, 2012
President Henderson West announced today that "Engaged Democracy", the system that relies one hundred percent on the American people to develop legislation and participate in the voting process, has formally become the form of government of the United States. Congress and the federal bureaucracy will oversee the management of the process, as has become the norm over the previous two years, and they will not have a direct influence over any aspects of legislative development beyond their right as an individual citizen, which is equal to any other.
In the remarkable new book by Kenneth Jackson, "Engaged Democracy" is the over-riding concept that Americans come to embrace in the future. Fueled by an overall discontent with the current system as demonstrated by voter frustration with the electoral process, disenfranchised Americans (Occupy movement) and organized reform movements (the Tea Party), "Engaged Democracy" is a system that enables Americans to take control of the governmental and legislative processes. http://www.ff21st.com
Coupled with the "Spirit of Law" tenet which outlines the goal and intent of any legislation, and is as legally binding as the legislation itself, America becomes a true democratic nation as envisioned by the founding fathers. Spear-headed by President Henderson West (aka founding father of the twenty-first century - ff21st), the vision of an empowered community of American citizens who care deeply for the future and take into consideration a broader range of interests beyond party lines, flourishes in a modern and open era of American growth.
Kenneth Jackson, a political scientist who holds a MBA states "representative government is not an appropriate system for our modern era." He continues. "Americans have become disenfranchised with the current system of government. A new form of democracy and an appropriate, more-inclusive governmental model are required to tackle the complex issues faced in the twenty-first century. Engaged Democracy and the Spirit of Law deliver both".
"Further" Jackson adds, "the party system has corrupted the representative style of government as party agendas and polarized opposition have made the system completely ineffectual. Representatives hold allegiance to their party paramount to that of the people. This circumstance, put quite simply, is not democracy".
"ff21st" is available for sale online at Amazon.com and many other channels.
About the Author:
Kenneth Jackson earned a Bachelor of Arts degree in political science and a MBA in international management from SMU. He is a twenty-year veteran of the advertising and marketing industries and has worked internationally with several of the world`s largest advertising agencies. Jackson has lived in Singapore, Prague and Toronto. An avid hockey goaltender, guitar player and traveler, Jackson is retired and lives in Nova Scotia.