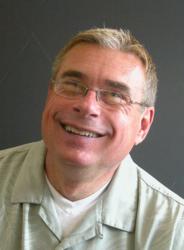 I could not be more excited about our new team member... We're thrilled to deliver his expertise to our clients.
Franklin, TN (PRWEB) November 21, 2012
As creative director, Everhart is immediately taking on the creative responsibility for FMS, working in tandem with FMS Founder and President Tim Pannell and Partner/Brand Strategist Laurie Campbell Pannell.
"I could not be more excited about our new team member," said Pannell. "He has more than 20 years of experience in the industry, has been a creative director overseeing 30 artists in a previous agency, and has led an internal agency for a 1,000-branch bank. We're thrilled to deliver his expertise to our clients."
Everhart joins the FMS team at a critical time with numerous brand discovery focus groups, strategy meetings and marketing presentations already set for 2013. "Roger is a hands-on creative with concept-to-completion experience in print, online, broadcast, social media and interactive new media projects," shared Pannell. "He's a strategic big-picture thinker with a proven ability to craft compelling design solutions that engage the target market, enhance brand awareness and drive revenue."
Everhart will fill a new and critical role at the agency. As creative director, his duties will include creative collaboration with the team and oversight of the creative output at FMS. Having spent years fine-tuning brand identity and marketing concept development, creating multi-platform campaigns for broadcast, print, and digital online distribution, he will also mentor the FMS creative team.
Prior to joining FMS, Everhart began his professional career as an art director at Young & Rubicam Adverting in Los Angeles, CA. He then continued his creativity and strategy training as creative director, associate creative director and senior art director for advertising agencies in Pennsylvania, Arizona, California and Maryland including Merrick Towle Communications, Kelly Michener Advertising, Hutelmyer & Puzzi Advertising, ICI Communications, Hutelmyer & Lavidge Advertising, Winters/Franceschi/Callahan and his own design agency, SlingshotWorks. He also brings unique expertise to FMS, having worked for clients such as CitiBank and First National Bank of MD, as well as serving five years as creative director and marketing manager for Sovereign Bank. Everhart has earned 180 + honors including multiple ADDYs and awards in Communication Arts, One Club Los Angeles; Best of Show, Art Directors Club Los Angeles (2 Gold, 6 Silver, 5 Bronze); Art Directors Club of Phoenix (2 Best of Show, 3 Gold, 7 Silver, 4 Bronze); and New York Art Directors Club (Gold). Everhart earned his Bachelor of Arts in Graphic Design and Marketing at Northwest Art Institute, Portland, OR; a Marketing Certificate at Stanford University, Palo Alto, CA; and a Design and Advertising Certificate at the Art Center, Los Angeles, CA. He has also been a Graphic Design Instructor at Arizona State University, Tempe, AZ.
Furthermore, in 2011, FMS created Sidecar to serve the extracurricular clients met through FMS; Everhart will also serve as creative director for Sidecar, employing skills gained with clients such as Chrysler-Plymouth, Club Med, Honeywell, Intel, JerrDan, Johnson & Johnson, Mayo Clinic, PetSmart, Pepco Energy Services, Samaritan Hospitals, U.S. DOT and Wilbur Chocolate, to name a few.
"We especially like how Roger's creativity and collaboration is backed by strategic thinking," shared Laurie Pannell. "He will be a real asset to FMS and Sidecar, and I can't wait to see how he'll take our creative concepts and designs to the next level."
About FMS: Financial Marketing Solutions is a niche branding and marketing agency. Through strategic discovery, FMS partners with banks across the nation to define and enhance bank brands and develop customized, creative marketing tools. This comprehensive approach unites the bank's team and presents a consistently powerful brand message, increasing employee effectiveness, customer retention, brand loyalty and ultimately, profits for the bank. For information, call 615-591-2073 or visit http://www.fms4banks.com.
About Sidecar: Founded by partners Laurie and Tim Pannell in 2011, Sidecar serves as an additional service to existing FMS relationships as well as new clients, offering FMS' holistic branding approach to a broader variety of industries. Sidecar's work spans fresh brand strategy and development, new media and web design, advertising, naming and writing, branded experience and engagement, traditional marketing and specialty marketing. For information, call 615-476-7731 or visit http://www.fuelyourbrand.com.