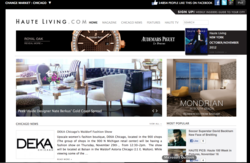 Chicago is a major metropolitan city with an abundance of wealth and history
Chicago, ILL (PRWEB) November 19, 2012
Haute Living Magazine is proud to announce that it has added Chicago to the list of cities it covers on HauteLiving.com.
The website will feature events, news, and exclusive interviews with prominent Chicago business owners, chefs, fashion designers and real estate agents. Chicago will also have its own City Guide that will feature the best hotels, restaurants, and nightclubs in the area.
"Chicago is a major metropolitan city with an abundance of wealth and history. It has a booming fashion and food scene that's not only prominent on the Magnificent Mile and Michigan Avenue but in its surrounding affluent communities," said Haute Living Publisher Seth Semilof. Co-publisher Kamal Hotchandani added, "As we grow it's important for us to add markets like Chicago to make sure readers here are benefitting from what Haute Living brings to this local affluent community."
Born and raised Chicago native Chris Smith will serve as editor of Haute Living Chicago and brings his experience as a journalist and a high-end stylist to the forefront of the website. "I am constantly on the look out for insider information coming out of the North Side, downtown and especially the Gold Coast," he said.
Haute Living will continue its expansion in the coming year, looking to add 10 to 15 new markets including Asia, Texas, Hawaii and Aspen.
About Haute Living.com
The Haute Living website is the premier go-to for information on all things Haute around the world. With pages dedicated to 18 cosmopolitan cities, editors update readers on daily news, exclusive events, exciting openings and product releases. The Haute Living group also extends to niche luxury markets, with news about everything Haute, from yachts to interior design. The acclaimed Haute Time leads the group, providing luxury timepiece aficionados with product previews, exclusive interviews and more.
About the Haute Living Brand
Haute Living Magazine is a national luxury lifestyle magazine published in four markets—New York, Miami, Los Angeles, and San Francisco. Haute Living Magazine features the top entrepreneurs, businesspeople, and notables in each market. Haute Living Magazine also highlights the best in luxury consumer goods, culinary hot spots and events. Haute Living recently redesigned its website and re-launched its Haute Time and Haute 100 websites for state-of-the-art experiences.
For inquiries, please contact:
Seth Semilof
Publisher
t: (646) 599-2750
e: ssemilof(at)hauteliving(dot)com