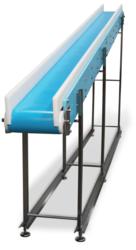 Muskegon, MI (PRWEB) November 21, 2012
J&M Foods, Inc. of Little Rock, AR, is the recipient of a free DynaClean Ultimate Food Grade Conveyor System manufactured by Dynamic Conveyor. J&M Foods is a family owned and operated company that manufactures great tasting gourmet treats such as cheese straws, traditional cookies and tea cookies. J&M proudly maintains the highest standards of product quality and uses only the finest natural ingredients.
Dynamic Conveyor of Muskegon, MI is the leading manufacturer of reconfigurable conveying systems. The newest line of reconfigurable conveyors is the DynaClean line, which was specifically designed to meet the needs of food processors and food packagers, such as J&M Foods.
DynaClean conveyors are quick and easy to sanitize and offer flexibility in configuration and reconfiguration not possible with traditional stainless steel conveyors. Offering a conveying solution that is sustainable and environmentally friendly, the DynaClean layout and configuration can be changed when food processing or packaging needs change. When conveying needs change, the DynaClean food processing conveyor can be rebuilt to create the new desired layout. Existing segments can be re-used in combination with new segments to build a conveyor that works with the new process. There is no need to throw the entire food grade conveyor into the scrap yard.
DynaClean reconfigurable conveying systems are constructed of plastic and stainless steel materials that meet NSF, FDA, USDA and BISCC standards. The materials are corrosion resistant, non-toxic, non-absorbent and temperature resistant. The food grade conveyor components do not rot or retain harmful bacteria, odors or cleaning agents. The conveyors can be cleaned with hot water, steam and/or detergents ranging from Sodium Hydroxide to Hydrochloric Acid.
Quick cleaning can be done by utilizing the optional belt lifters to access the internal components of the conveyor. For a more thorough cleaning, the belt can be removed by pulling one lacing rod from the belt allowing full access to the internal components. The belts resist bacteria growth and are easy to clean. After removal of the belt, the belt supports, drive motor and feed end roller can be removed and replaced within minutes.
The design is simple with no mechanical belt tensioners, external bearings or need for lubrication. DynaClean Ultimate food processing conveyor systems utilize a one-piece solid return roller that is bearing free. Stand-offs and flange head bolts are used for easy cleaning access. The drum style motor can be cleaned in much less time than a typical motor due to its smooth, stainless steel finish and the hermetically sealed and totally enclosed design.
For more information about DynaClean Ultimate food grade conveyor systems contact Dynamic Conveyor Corporation, 5980 Grand Haven Road, Muskegon, MI 49441; phone (800) 640-6850; or visit the web site http://www.DynamicConveyor.com.