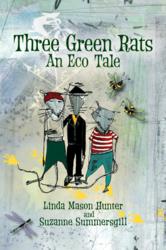 Oli, Wilbur and Tom are dirty and delightful little eco rats with a great story to share. Three Green Rats is a captivating story that reminds us that we are nature, not separate from it. — David Suzuki Foundation, Vancouver, British Columbia
Des Moines, IA (PRWEB) November 19, 2012
Something is brewing in Tintown, and it's not just the compost. An edgy and beautifully-illustrated chapter book for young readers and precocious adults, "Three Green Rats: An Eco Tale" is a light-hearted eco tale taking heed of a graying, withering environment. Printed with environmental integrity on recycled paper (certified by the Forest Stewardship Council) and illustrated with vegetable/soya inks, "Three Green Rats" not only demonstrates hundreds of ways to live green, but practices what it preaches. For more information about the book, go to http://www.ThreeGreenRats.com.
Oli, Wilbur and Tom are dirty and delightful little eco rats with a great story to share. "Three Green Rats" is a captivating story that reminds us that we are nature, not separate from it. — David Suzuki Foundation, Vancouver, British Columbia
As in the classic, "Charlotte's Web," the authors use creatures from the animal kingdom to show the way. With simplicity and charm, they tell the story of how "Three Green Rats" lead their hometown away from greed for too much stuff to the fullness of a simple life that respects the earth. — John Adams, Founding Director, The Natural Resources Defense Council (NRDC), New York, NY
Linda Mason Hunter has written 13 books on architecture, design, and sustainable living. Her most popular books, "The Healthy Home"; "Green Clean"; and "Creating A Safe & Healthy Home" have been featured in The New York Times, "The Washington Post, Newsweek, and on Good Morning America and Pacifica Radio. She has written five books for Meredith Corp., and her articles have appeared in Better Homes and Gardens, Ladies Home Journal, and Family Circle, among others. She currently hosts "The Green Zone," a daily radio show promoting sustainability. She divides her time between Iowa and B.C.
Canadian co-author and illustrator Suzanne Summersgill has been contributing to the Eco movement for the last 25 years. Her work has appeared in several publications, including The Georgia Straight, Mothering Magazine, Momentum, 24,BC Parents, and Canadian House and Home. She works under the name pinnstudio, illustrating for clients and her own line of prints using tossed-out papers and discarded finds. She's been featured on HGTV and has lent artwork to various movie productions.