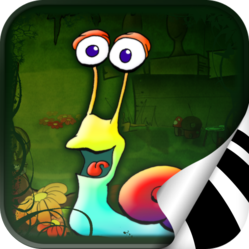 (PRWEB) November 21, 2012
zuuka is pleased to introduce The Adventures of Slibby the Snail: The Stolen Food for iPad and iPhone on the App Store at the introductory price of $0.99 until November 27th 2012. Adding another level of interactivity, young readers must help Slibby overcome challenges throughout the app such as connecting the dots, collecting leaves and navigating through a maze to help recover food supplies that have been taken.
The story introduces Slibby the snail from Porchlandia, where he and his friends live. His friends, the ants, seem to have had most of their food supplies taken; and Slibby is there to help them retrieve it. It's up to the young reader to help Slibby recover the food by completing mini challenges within the storybook. During their journey through the forest, Slibby and the reader will meet all kinds of animals and creatures that might lend a helping hand.
"zuuka is excited to add another interesting and engaging character to our library and very proud of our development team who is creating new ways for young readers to engage with their storybooks," says Dirk Busshart of zuuka.
Featuring beautiful imagery, an adventurous story, and fun interactive challenges, Slibby was developed with the elements to serve much more than just a decorative cause: They encourage children to actively participate in storytelling and help keep up the concentration to relate to the characters on the screen. A range of sounds and a friendly narrator's voice complete this charming, one-of-a-kind storybook title
"We hope that our little readers will enjoy this app as much as we did making it!", says creator Ivan Kuleš. The Adventures Of Slibby The Snail is available for $2.99 on the App Store for iPad/iPhone or at http://www.itunes.com/appstore.
+++++++++++++
About CoolAsh Studios ('The Adventures Of Slibby The Snail')
CoolAsh Studios is a development team from Croatia with a mission to create fun storytelling and gaming experience for kids. CoolAsh focuses on genuine graphics, nicely told stories and interactive elements in every storybook and game they conceptualize and bring to life. For more information visit http://www.coolash.com.
About zuuka
zuuka is a worldwide publisher of interactive children's entertainment. Based in Offenbach/Germany, a second office is located in Santa Barbara/California. Its three main brands iStoryTime, zuuka comics, and iTalk bring a series of games and books to the convenience of your mobile device – created for kids by parents. The company's global partners range from HarperCollins to Sony Pictures, from Nickelodeon to Random House and make titles available in more than 80 countries. For additional information, visit http://www.zuuka.com.