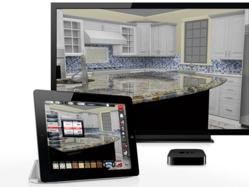 Michelangelo Lite is the first super realistic, virtual, 3D showroom for iPad that helps you visualize your dreams and bring them to life.
Long Island, NY (PRWEB) November 21, 2012
Michelangelo lite is a dream come true for homeowners, interior designers, and general contractors who have often wondered what their kitchen or bathroom would look like before investing thousands of dollars, and making a decision they might regret. This wonderful, totally free app showcases thousands of tiles and counter-tops from world renowned vendors and brings them together under the same roof.
"Michelangelo Lite takes the guessing out of the equation by bringing innovation where there once was none," said co-founder Kostas Kioleidis, and co-founder Nicola Maganuco, said: "Being able to visualize your dream kitchen or bathroom, with this tile or that counter-top, will not only save you money, but also a lot of time and aggravation."
Michelangelo Lite was developed by stone industry experts with over 30 years of experience. Extreme care was taken to ensure that the products featured In the app look as realistic as possible. Glair, shadows, reflections, grain and color textures are reproduced faithfully. Nothing was left to chance during the development process.
"With just a few flicks of your finger you can browse thousands of products from renowned, international brands, from anywhere, anytime.. You can store, edit, rename, sort, swap and change almost anything with extreme ease. And when you're done you can share it with the world, via email, Facebook or Twitter," Nicola Maganuco said.
Video Link: https://www.youtube.com/watch?v=U7FkbKgaek0