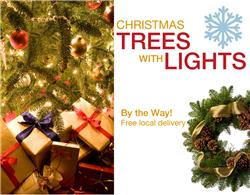 This even is from 5:30 to 8:30 on December 6th.
Metairie, La (PRWEB) November 21, 2012
Each year, the Metairie Road Business Association holds a festive gathering to celebrate the holidays and the businesses and patrons along Metairie Road. Located in the heart of Old Metairie, The Garden Gates is always the perfect place and loves to play host to the Christmas tree lighting ceremony. Complete with Christmas carolers, hot chocolate and beautiful Christmas trees, The Garden Gates will host local restaurants with free food, wine and holiday treats. Santa will also be on hand to hear Christmas requests, take pictures and visit with children and families.
The Garden Gates will also have extended hours for this special event to allow patrons extra shopping time to check loved ones off their Christmas list, to find the perfect Christmas tree or to just soak in the holiday atmosphere.
Join good friends, both old and new, and local business for this special event that only happens once a year. Visit with neighbors, play in the "snow" and watch as a beautiful Christmas tree is erected on Metairie Road to shine for all to see.
For more information, please visit http://www.thegardengates.com or call 1-877-780-6699.
About The Garden Gates:
The Garden Gates was founded by Jacqueline Elizabeth Kendall-Harris and Chad Harris in 1999. Jacqueline plays an instrumental role in product development, interior design and in developing core principles of The Garden Gates lifestyle. Chad plays an instrumental role in the creativity of the brand, marketing and technology of the business.