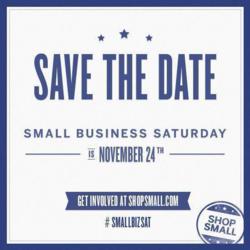 Wake Forest, NC (PRWEB) November 20, 2012
The Cotton Company is proud to accept the American Express credit card and we are taking part in the nationwide promotion to support small businesses. On Small Business Saturday, November 24th, if shoppers use their American Express cards and spend $25 – they will receive a $25 credit on their statements. Register each card at: http://www.shopsmall.com and get paid for shopping locally this Saturday.
The Cotton Company has been supporting local businesses for many years and now we are making it easy for you to do the same thing! The next time you visit our store look for our Buy Local campaign signs. We have displayed promotional signage to identify our vendors who are carrying locally made, hand crafted goods. Each vendor with items made in the USA will have a marker in their booth so you can know where to look if you want to support the nationwide effort to buy products made in the USA. We will also have a list posted identifying the participating vendors – please talk to our staff if you have any questions about these products or if you need assistance locating these booths.
Keep in mind that purchases made from any booth at The Cotton Company, regardless of their product line, are purchases that support a local business. This Buy Local campaign is a two sided effort. We want to encourage shoppers to support the businesses in their home towns. We build communities by keeping each other in business. We also want to encourage the sale of products made in the USA as a part of ensuring the viability of the nationwide marketplace. If each small town across the country takes an active part in this type of campaign the effects are proven to have more than a local impact.
The Cotton Company is a local business located in the Historic Downtown District of Wake Forest NC. Find unique and hand crafted gift ideas in our Boutique Marketplace and enjoy browsing through our Art Gallery. We also have Event Space available for rent that is ideal for weddings and private parties.