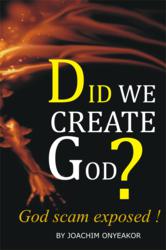 Greedy organizations can't operate without vulnerable victims.
JOHANNESBURG (PRWEB) November 21, 2012
Greedy organizations can't operate without vulnerable victims.
Working to educate the public in his new book Did We Create God?, activist Joachim Onyeakor exposes money-making activities in some religious organizations.
Onyeakor, a nonviolence activist, says he is dedicated to helping others question religious practices that fail to serve humanity while using strategies like condemnation.
Embracing organizations that serve its members while criticizing those that condemn them, his book informs, inspires and entertains readers.
Did We Create God? provides specific examples of good and bad practices within the world's largest religions of Christianity, Judaism and Islam.
The book also focuses on religious scams happening around the world to warn people to avoid becoming victims to them.
For more information, visit http://didwecreategod.com.
Did We Create God?
By Joachim Onyeakor
ISBN: 978-1-4771-3695-9
Softcover retail price: $19.99
Hardcover retail price: $29.99
E-book price: $5.99
About the author
Joachim Onyeakor is a motivational speaker and writer. A global activist, he sheds light on questionable religious practices while embracing organizations that serve all of humanity. He is the founder of We Can Do It Foundation in Nigeria and Save the Youth Foundation in South Africa. Born in Nigeria, Onyeakor currently resides in South Africa.