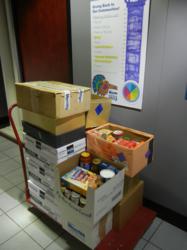 It is reported that one out of five children in Connecticut are food insecure.- The Child Food Insecurity 2012 Study
Hartford, CT (PRWEB) November 20, 2012
Joseph Merritt Company, a graphic imaging and printing services company, is headquartered in Hartford, CT. The company has called the city home for almost 105 years. This holiday Merritt's employees decided to do something extra to support the local community. In response to high levels of poverty and hunger in the city, the company chose to host a company-wide food drive.
Employees in every branch of the Joseph Merritt Company, Hartford; New Haven; Waterbury; Danbury; Providence, RI; and Woburn, MA, chipped in to donate nonperishable food items for the MANNA Community Pantry in Hartford. The company set a goal for the drive and encouraged everyone to contribute. As an added incentive to this worthwhile cause, the branch with the highest number of donated food items per employee would earn a $100 check to give to their own local food pantry.
Hands On Hartford provides direct services to people in need by promoting civic engagement and volunteerism. They provided decorated boxes for Merritt's branches to use to collect food items and even helped arrange delivery to the pantry. Organizations like Hands on Hartford make hosting food drives convenient for businesses.
Each of the six Merritt branches competed fiercely to collect the most food and win the $100 incentive. The manager of the Danbury branch was notably competitive. A day before he was scheduled to take a vacation, he found out that his branch was behind and spent his lunch break shopping at a local supermarket. The Danbury branch's collection doubled that afternoon.
The company goal was to raise 300 food items to donate to the pantry before Thanksgiving. This equated to a little more than 4 items per employee. "We were very pleased to exceed our goal for this food drive. The generosity shown by our employees will help families in the community Joseph Merritt Company has called home for more than a century," stated Merritt's President and CEO Ed Perry. "I am not surprised by the result; I have always known our employees to be caring and capable people."
It is reported that one out of five children in Connecticut are food insecure. This means that these children do not know when they will be given their next meal. According to The Child Food Insecurity 2012 Study released by Connecticut Food Bank and Feeding America, 48 percent of the food insecure children in Connecticut Food Bank's service area do not receive federal-food-assistance programs such as SNAP (food stamps); free or reduced price school meals; or the Special Supplemental Nutrition Program for Women, Infants and Children (WIC), because their families earn over the income limit to qualify. These families often rely on food pantries and soup kitchens to obtain food to support nutrition.
In response to such disheartening reports, businesses in the state have the opportunity to make a meaningful impact. The result of Merritt's food drive will benefit many. In addition to the donations to the MANNA Community Pantry in Hartford, the Danbury branch did indeed win the check for their local food pantry, and are donating it to Daily Bread Food Pantry. The Danbury branch contributed a whopping 20.33 items per employee!
To learn more about Joseph Merritt Company, please visit http://www.merrittgraphics.com
To learn more about Hand's on Hartford, please visit http://www.handsonhartford.org