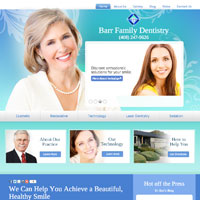 San Jose, CA (PRWEB) November 20, 2012
Dr. Robert Barr and his team at Barr Family Dentistry are excited to announce the recent launch of their new website: cosmeticdentistrysanjose.com. The crisp, modern look of these new pages reflects the vision Dr. Barr has for his cosmetic and laser dentistry practice as the dawn of a new year approaches. The ever-changing field of dentistry demands the constant attention of professionals such as Dr. Barr who are dedicated to staying at the forefront of advances in dental techniques and technologies.
Since becoming only the second dentist in the late 1980s to use lasers in dentistry, Dr. Barr has sustained his reputation as a leader in the specialty. He trains doctors and hygienists around the world on how to properly use lasers. By utilizing dental lasers for gum reshaping, root canal therapy, and cosmetic dentistry treatments, Dr. Barr can alleviate the pain often associated with dental drills with the use of lasers, while significantly increasing the precision with which he cares for his patients' smiles.
About Barr Family Dentistry
Dr. Barr has been committed to improving the dental field for many years. After helping hundreds of patients achieve the smiles of their dreams with restorative, general, laser, and cosmetic dentistry, Dr. Barr and his team of experts understand the work that goes into a beautiful smile.
With every patient, Barr Family Dentistry places emphasis on the preplanning phase of treatment to ensure that the care that is provided is custom-fit for the patient's needs. For those with cosmetic flaws such as discoloration, minor chips and breaks, misalignment, or outdated restorations, Dr. Barr uses advanced teeth whitening, porcelain veneers, and gum contouring. Patients whose tooth structure has been compromised by trauma, injury, or decay can appreciate Dr. Barr's restorative treatments such as dental implants, crowns in 2 hours, and white fillings. Dr Barr runs a mercury-free (a substance contained in silver fillings) practice.
Barr Family Dentistry is conveniently located for patients in San Jose. Dr. Barr can be contacted at (408) 247-9626 or through his new website at cosmeticdentistrysanjose.com.
Originally posted by Robert Barr on Dr. Robert Barr's Blog.