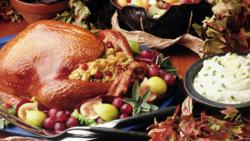 Pasadena, CA (PRWEB) November 20, 2012
Today, Goldstar, the site that gets people out to live entertainment more often, kicked-off its ninth-annual Thanksgiving Appeal in hopes that people will give more often.
"For the ninth year in a row, we're collecting donations to feed people in need," says Goldstar, CEO, Jim McCarthy. "In past years, this has meant donating hundreds of thousands of dollars to help the hungry nationwide. This year, we continue the tradition by inviting you to donate on our site."
A donation box is featured at the top of every Goldstar site page. Donors can contribute $15 or $30 directly to the participating programs in their area. They can also see a real-time counter indicating just how many people are being provided with meals as a result of this drive.
The donations can be made at http://www.goldstar.com/events from Friday, November 16th, 2012 until Thursday, November 22nd, 2012.
This year, food banks in the following 18 cities are participating:

Atlanta Community Food (Atlanta, GA)
North Texas Food Bank (Dallas, TX)
California Emergency Foodlink (Sacramento, CA)
Capital Area Food Bank (Washington, D.C.)
Delancey Street Life Learning Academy (San Francisco, CA)
Feeding South Florida (Miami, FL)
Food Bank For New York City (New York, NY)
Greater Chicago Food Depository (Chicago, IL)
Houston Food Bank (Houston, TX)
Northwest Harvest (Seattle, WA)
Orange County Food Bank (Orange County, CA)
Oregon Food Bank (Portland, OR)
Philabundance (Philadelphia, PA)
Second Harvest Food Bank (San Jose, CA)
Second Harvest Heartland (Minneapolis, MN)
St. Vincent De Paul Village (San Diego, CA)
The Greater Boston Food Bank (Boston, MA)
Union Station Homeless Services (Los Angeles, CA)
To learn more about Goldstar or Thanksgiving Appeal, go to http://www.goldstar.com.
###
About Goldstar
Goldstar (http://www.goldstar.com) offers half-price tickets, ideas for fun things to do, and access to the world's largest source of user reviews for live entertainment, all online. It's free for people to join Goldstar, and each week they receive custom e-mails with event offers at half-price. In addition to motivating prices and a convenient online purchase process, Goldstar offers members a variety of tools and tips to make an evening out exceptionally easy.