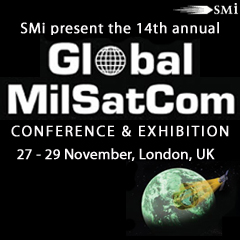 (PRWEB UK) 20 November 2012
This year's industry leading event has more content and more international speakers than ever before to make your visit thoroughly worthwhile. Global MilSatCom 2012 will feature over 50 internationally recognised speakers from the Military, Government, NATO, Academia and Industry to examine the latest developments, policies, strategies and challenges faced by the MilSatCom community.
This event is nearly sold out. To guarantee your place amongst 350 industry professionals, please visit http://www.smi-online.co.uk/2012globalmilsatcom63.asp
Confirmed organisations to attend include: Belgian Defence Force; Brazilian Army; C N E S; Cassidian; CCISE; Combitech AB; CPI Satcom Division; Danish Defence Acquisition and Logistics Organisation; DASSAULT AVIATION; EADS Astrium; EADS-CASA; Embassy of Japan; Embassy of Ukraine; German Armed Forces Support Command; Japan Manned Space Systems Corporation; Logica; Luxembourg Army HQ; MBDA Systems; MCC Corporation; MDA Satellite; Media Broadcast; METRACOM; Ministry Of Defence Czech Republic; Ministry of Defence, France; Ministry of Defence, Italy; Ministry of Defence, Japan; Ministry of Defence, Nigeria; Ministry of Defence, UK; Munich University of the Bundeswehr; NATO HQ; Navy Command HQ; Nigerian Navy; Pentagon, USA; R A F; Royal New Zealand Navy; SELEX Elsag; Skyware Global; Spacex; Telecom Italia; Thuraya Telecommunications Company; Turkish Land Forces, UAE Armed Forces; US Embassy; USAF; ViaSat; Vizada; plus many more!
Hear from our expert speaker line-up including: German MoD, DGA France, UK MoD, Italian Navy, NATO Communications & Information Agency, Defence Information Systems Agency, USAF, Netherlands MoD, NZDF, Japan MoD
Networking opportunities: Take the chance to network with key SatCom professionals at one of the many events held before and during the conference:

Pre-Conference Drinks and Dinner (NEW to 2012) and Drinks Receptions at the end of Day Two and Day Three
Visit our vibrant exhibition hall showcasing the latest products and solutions for the MilSatCom community
Engage with attendees, speakers and sponsors before and after the event within SMi's Online Event Communities (open to all registered to attend the event).
PLUS - Don't miss our full day interactive workshop on:
What is the Future for Broadband Tactical Satellite Communications?
In association with Cobham, held on the 26th November 2012
This event is guaranteed to be sold out so secure your place today.
Book online at: http://www.smi-online.co.uk/2012globalmilsatcom63.asp
For more information contact Teri or James on: +44(0) 20 7827 6162 / 6054
-------------------------------------------END----------------------------------------------
Global MilSatCom 2012 is just one of the many conferences that are a part of the SMi Group portfolio.
The SMi Group is a highly Professional, Independent and Global event producing company that specialises in Business to Business Conferences, Workshops, Masterclasses and Online Communities. Our aim is to provide you with the highest quality events in Defence, Security, Energy, Utilities, Finance and Pharmaceutical sectors, which are timely, relevant and important to you and your company!
For further information, contact:
Teri Arri
Tel: +44 (0) 20 7827 6162
Email: tarri(at)smi-online(dot)co(dot)uk
http://www.smi-online.co.uk