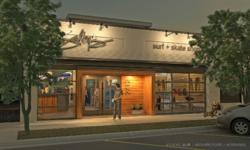 One For One
Columbia, SC (PRWEB) November 20, 2012
With the giving season approaching, Salty's Board Shop, a local Columbia, South Carolina board shop for surf, skate, snow and paddle boards wants to encourage everyone to focus on their giving spirit this year, and think about not only those that they love, but the less fortunate. There are many in need here in our community, and those needs extend across the world. This is why Salty's is doing what it can to promote humanitarian companies like Toms Shoes, Jedidiah and more.
Salty's Board Shop watched Toms shoes grow from the ground up, and are so happy to be a part of that growth: from the days that it was rare to see one person wearing a pair, to today when it is hard to walk down the street without seeing several on the feet of passersby. Yet, in all those wearers, Salty's continue to see that many aren't aware of what this fabulous company is doing or that it even exists. So this season they want to share a little bit about Toms, and hope everyone will support this amazing company as they give this season.
In 2006, traveler Blake Mycoskie befriended children in Argentina, and discovered their dire need for shoes. Children were walking through muddy, wet streets in bare feet contracting soil transmitted diseases, getting cuts leading to infections, were unable to go to school because shoes are a required part of the uniform. These children that wanted so desperately to go to school, weren't allowed because they couldn't afford the shoes to go. This led Blake to create Toms Shoes. A company that would match every shoe purchased with a shoe for a child in need. And, a year later, he returned to Argentina with 10,000 shoes. Toms calls this the One for One Movement, and it is a Movement that has definitely swept the nation. The company partners with humanitarian organizations all over the world that help them find the children in the most need. Those partners then deliver shoes to those children and continue to keep their feet covered. This leads to better attendance at school, which then leads to better opportunities as they grow. Toms is currently giving in over 40 locations around the world, and the shoe count a year ago was over 2,000,000 pair.
With the growth of the shoe drops, Toms also began to see the need for vision care in these areas, and thus created Toms Eyewear. Toms Eyewear works on the same premise of One for One. However, kids aren't getting a cool pair of shades for every purchase made. They are getting quality eye care; from eye exams to a pair of glasses to eye surgery. Toms continues to find ways to give back. They didn't' just stop at one thing and say they did their part. We should all learn from that.
Salty's is proud to support a company like this, not only for Toms great efforts, but because it opens an easy opportunity to give back for our customers. Not only are people getting something for themselves or a friend, they are helping a child who desperately needs it. And there is no doubt that giving is good for the soul.
So this season, think of humanitarian organizations that give back with the purchases being made. If looking for Toms, shoppers can find them at Salty's Board Shop located at 2712 Devine Street in Columbia, or visit their online store at http://www.saltysboardshop.com. Hours of operation are Monday through Saturday from 10AM – 7PM and Sundays from 12PM-6PM.
About the company:
Salty's Board Shop in Columbia, SC is owned and operated by Paul Goff — a local surfer, skater, snowboarder, wake-boarder, paddle-boarder, windsurfer, kite-boarder, and more. If a board is part of the sport, Paul does it! If water is part of the formula, it's just that much sweeter. Paul's love of the board sports, love of the lifestyle, and love of the people he would have the opportunity to meet drew him to Salty's. He now owns the store with his wife, Jessica. Together they make the perfect team. And, with the help of an amazing, friendly, and knowledgeable staff here to help customers, Salty's Board Shop can't be beat. For more information, please visit their website at http://www.saltysboardshopsc.com.