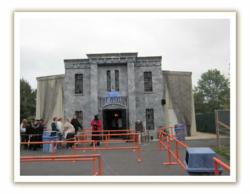 Delray Beach, Florida (PRWEB) November 20, 2012
Freedom Steel Buildings, the leading supplier of pre-fabricated metal buildings around the globe, has provided Carrowinds Amusement Park with another building for their haunted house attractions. Carrowinds, known as the thrill capital of the South East has been using Freedom Steel Buildings for their haunted house themed entertainment for several years and has just added another building to their line up. Their 40X80X14 building will be Charlotte, North Carolina's newest and spookiest adventure yet!
As Freedom Steel leads the way into the future of steel buildings, they welcome all requests and project managers are available to discuss your next building projects details by calling 1-800-630-2846.
ABOUT FREEDOM STEEL
Freedom Steel's buildings are shipped factory direct from any one of their 18 factories across the continental Unites States. Freedom Steel also provides buildings for anywhere in the world, including a heavy concentration in the Caribbean and Canada; as well as projects in Central and South Americas, Africa and Europe. Freedom Steel's factories have the ability to construct prefabricated buildings of any size with clear-span options as wide as 250'. Along with all of the government funded projects, Freedom Steel ships hundreds of buildings per year to customers needing barns, garages, riding arenas, gymnasiums, churches, workshops, residences and more. Stamped, certified and state sealed drawings are included for every project. Freedom Steel buildings come standard with such "upgrades" as PBR roof and well panels, pre-welded clips and pre-punched door openings. They also offer an array of accessories for the consumer including garage and entry doors, windows, insulation, vents, skylights and canopies. Freedom Steel also recently launched its new product-line of Light-Gauge (LG Series) buildings. This series features a low-cost steel (interior and exterior) framing system for homes, barns, sheds and garages that enables the end-user to provide his/her own cladding options. Freedom Steel's international headquarters is located in Delray Beach, FL, where any and all (potential) customers are welcome to visit anytime.