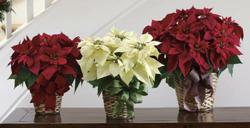 (PRWEB) November 21, 2012
Poinsettias are:

A Traditional Gift
Great for Holiday Decorating
Low Maintenance
Available for Delivery in Many Countries
The poinsettia is often seen as the symbol of the Star of Bethlehem. Native to Mexico, the poinsettia is known as flor de noche buena (Spanish for "flowers of the holy night"). December 12th has been proclaimed by Congress as National Poinsettia Day to commemorate the death of Joel Robert Poinsett who as the first ambassador of the United States to Mexico introduced this native plant to the U.S.
With the holiday season drawing near, it's time to think of decorations and gift-giving. One of the best holiday gifts to give is a living plant. With 3 sizes to choose from, add the beauty and colors of Christmas to this holiday season without breaking the bank by decorating with a classic poinsettia from the 1st in Flowers! Christmas Collection. Its popularity comes from its beauty and longevity which makes it one of the most popular Christmas gifts ever.
Given as a gift, or decorating your home or office with the spirit of the holidays red poinsettias symbolize success and good cheer while white poinsettias are a symbol of unity. Easy to care for, they last well through the holiday season and can even be re-bloomed for the following year.
Have 5 or more recipients on your holiday gift-giving list? 1st in Flowers! makes it simple to process and manage your list. Send us your spreadsheet (or use ours) and we will process your orders and call you to get your billing information and finalize the details! Simple as that! Now go and enjoy the holidays!
Vist 1st in Flowers! to have a Christmas poinsettia delivered or for information on how to care for and rebloom your poinsettia.
About 1st in Flowers!
1st in Flowers! is a leading online source for beautiful flower arrangements and specialty gifts, since 1995. The company uses two of the largest floral delivery networks throughout the world to offer hand arranged and hand delivered floral arrangements. The company is owned and operated by 4th generation florists who have 49 years of experience in the floral industry. 1st in Flowers! has the expertise and experience to ensure a timely delivery of quality flowers at reasonable prices in the USA, Canada and over 150 countries around the world.