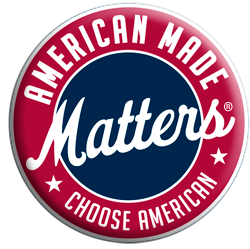 Adamstown, PA (PRWEB) November 19, 2012
American Made Matters® celebrated the addition of their one hundredth member on November 6, 2012. American Made Matters®, founded on July 4, 2009, has a mission of educating consumers that buying US-made products strengthens the American dream. By proactively engaging with over 8,000 of their fans on their Facebook page, over 1,200 of their followers on their Twitter account, and over 800 subscribers to their newsletter, American Made Matters® is strengthening their mission every day. American Made Matters® directs consumers who may struggle with finding US-made products to their website which lists the logos of their members and sponsors.
The members of American Made Matters® sell a variety of US-made products including hats, caps, shirts, jeans, belts, bags, underwear, pants, toys, socks, pet supplies, vacuum cleaners, Christmas tree ornaments, t-shirts, jewelry, bedding, towels, sunglasses, and shoes. These members come from thirty one of the fifty United States.
American Made Matters® was founded by manufacturers and is run by manufacturers and is a consumer movement not a political movement. While policies that support American manufacturing are needed and welcomed, the organization is not holding out for a solution from the U.S. Government. It seeks to build US manufacturing by connecting consumers with US made products.
According to Don Rongione, Founder of American Made Matters® and CEO of Bollman Hat Company, "American Made Matters® is focused on American citizens, the largest consumers of world goods, and helping them understand why American made does matter to all of us. The reasons are compelling including jobs, the economy, America's security and independence, America's safety, local communities and strengthening the American dream. It is what we can do for our country and our future!"
American Made Matters® seeks to translate the knowledge of the importance of a strong U.S. manufacturing base into action through their members' use of the American Made Matters® logo on the member company's products, packaging and marketing materials. The American Made Matters® logo, a common branding identity, has come to symbolize American made craftsmanship, durability, quality, product safety and ingenuity. As it continues to gain awareness and recognition, it increasingly will be sought by Americans who understand that buying American made matters.
There is power in numbers and the American Made Matters® organization is growing. The voices of their members are being heard and more and more consumers are looking for American made products.
For more information about American Made Matters®, please visit: http://www.AmericanMadeMatters.com.
# # #